Thiraichuvai
By Majordasan
Potpourri of tidbits about Tamil cinema - S.D. Subbulakshmi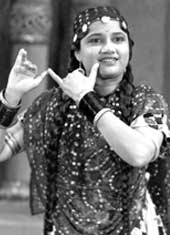 S.D.Subbulakshmi is the short name for Srivaikundam Duraisamy Subbulakshmi. She has entered upon the Tamil drama stage as a child artist, became a cinema actress and continued to be associated with cinema as a producer until her end. She was the wife of famous cinema director K.Subramaniam and mother of Abaswaram Ramji.
RK.Subramaniam had married to S.D.Subbulakshmi with the consent of his first wife Meenatchi, kept both the families together and managed them without any discrimination between them until his last breath. Balakrishnan, S.V.Ramanan, Krishnaswami, Chandrasekar, Lalitha, Bhama, Leela and Padma Subramaniam are the children of the couple K.Subramaniam and Meenatchi. Among them only S.V.Ramanian, Krishnaswami and Padma Subramaniam are associated with cinema and dance.
Abaswaram Ramji fondly shared the memories of his mother S.D.Subbulakshmi with us. He said, "The parents of my mother Duraiswami and Janaki ammal have understood the interests of my mother in fine arts, left Sri Vaikundam and settled in Madurai. They helped her to learn Carnatic Music and dance there. To assist my mother to act in stage plays they took photos of my mother in various makeups and shown them to a number of drama companies. Finally, she could to enter into acting and has managed to act in a number of dramas with well-known artists such as M.K.Thiagaraja Bagavather, K.B.Sundarambal and T.R.Mahalingam and earned a very good name.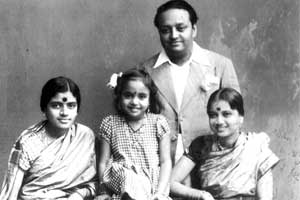 'Pavalakkodi' was one such drama where my mother acted with M.K.Thiagaraja Bhagavather and became very famous. Lena Chettiyar who has seen the drama wanted to picturise the drama and desired K.Subramaniam to direct that film. Both saw the drama together and Lena Chettiar readily agreed to the suggestion of K.Subramaniam to retain the same artists acted in drama in cinema too. Thus, the entry of my mother into Tamil Cinema started in 1934.
KM Matrimony Best Services –