Thiraichuvai
By Majordasan
Potpourri of tidbits about Tamil cinema - C. L. Anandan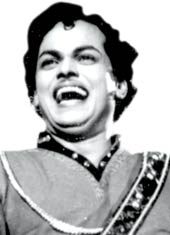 He introduced novelty and liveliness in sword fight, he fought with wild animals like tiger, lion, elephant and python without opting for a 'dupe', he was a great romantic and action hero, he displayed great histrionics in negative roles also by donning villain roles in the latter part of his career, he was a celluloid figure who sustained his name and fame till end – it is C. L. Anandan, who created a niche for himself in the tinselville in the 60s. He entered the film industry as a stunt man and a group-dancer. He was introduced by Citadel Films as the hero in their production 'Viyayapuri Veeran', released in the year 1960. He won the hearts of the cine-goers through his versatility which he displayed in sword fight, horse-riding, etc. He reached heights through his film 'Veera Thirumagan', released in the year 1962. The film catapulted him to the film industry's big league of happening stars. The film helped his heroine Sachu also climb the rungs of the success ladder. Anandan had more than 150 films to his credit that included hits like 'Kongu naattu thangam', 'Yaanai valartha vaanambaadi', 'Neeyaa, naanaa?', 'Kaattu malligai', 'Thanipiravi', 'Neerum neruppum, etc.
Anandan got interested in film production and founded his own production company 'Aanandan movies'.'Naanum manithanthaan' was his maiden venture. Though the film didn't do good business at the box office, it reaffirmed Anandan's histrionic talents as an actor.
Anandan was an ardent admirer of MGR and he was the first artiste to join the ADMK when MGR launched his own political party. I got opportunities to mingle with him closely during his propaganda programs, star-nites and stage dramas. Anandan was a very frank person. He had stunned me narrating the occasions when MGR helped him wriggle out of difficulties by going all the way. He showed me the scars of the wounds that he sustained during his fight scenes with wild animals. "My wife Lakshmi has got incredible patience and courage. She brought up all our seven children (3 sons, 4 daughters) amidst many hardships. She had never made me feel the burden of shouldering the responsibility. My daughters are in the cine field today. I won't claim that they are doing service to fine arts. Financially I am suffering today and they took to acting to earn money. My children are supporting me, this is the fact of the matter," Anandan openly told me during one of my meetings with him. 'Disco' Shanthi and Lalithakumari, two of his daughters were in the field. Shanthi has married the popular Telugu hero Hari while Lalithakumari married Prakash Raj (now divorced). Anandan's son Jairam is a busy actor today..
Anandan died of jaundice at the early hours on 25-3-1989 at the age of 56.