Potpourri of tidbits about Tamil cinema - 'Avvai' Shanmugam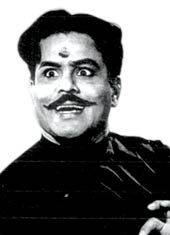 T. K. Shanmugam, endearingly addressed as 'Annaachi' by people in the film industry and theatre was indirectly responsible for Kamal Hasan donning the role of a woman character in the film 'Avvai Shanmugi' as well as for the choice of the name 'Shanmugi'.
T. K. Shanmugam was running a theatre group by name Balashanmugananda Sabha. Kamal Hasan joined his sabha as a child artiste and did roles in children's plays like 'Palaapazham' and 'Appaavin aasai'. Kamal Hasan developed his acting skills through these plays and as a token of gratitude and respect for his 'guru' Shanmugam, he named the film as 'Avvai Shanmugi'. In the stage play 'Avvaiyar', staged in the year 1943, Shanmugam, who was only 31 years old then, donned the role of the aged poetess 'Avvaiyar'. He changed his appearance and voice to suit the character and it was a precision work. The play earned him the prefix 'Avvai'. He was the inspiration for Kamal Hasan for the film 'Avvai Shanmugi'.
Shanmugam was born to the couple T. S. Kannusamy Pillai - Sitha Ammaal on 26-4-1912 at Thiruvananthapuram as their third-born. Sankaran and Muthu were elder to him while Bhagavathy was younger. Kannusamy Pillai put all his four sons in Boys Company, run by Sankaradas Swamigal. Shanmugam was only six years old when he joined the company. After the demise of Kannusamy Pillai in 1923, the brothers started their own drama company in the year 1925 and named it Balashanmuganantha Sabha. They staged plays that send messages on social reforms. They staged historical plays also.
'Gumasthavin penn', 'Andaman kaithi', 'Uyiroviyam', 'Mullil roja', 'Manithan', 'Sivaleela', 'Rajaraja Chozhan', 'Sivakamiyin sabhadam' were some of their very popular plays. Shanmugam proved his talents in the celluloid world also. 'Menaka', 'Penn manam', 'Bilhanan', 'Orr iravu', 'Ratha paasam', 'Kappalottiya Tamizhan' (Subrahmanya Siva role) were some of his films that won him accolades. His younger brother Bhagavathy also proved himself a very good actor, displaying his talents in all the films he did. He literally lived the character of Ravana in the film 'Sampoorna Ramayanam'. He had co-acted with great heroes like MGR and Shivaji but he would always leave his stamp with his individuality.
Shanmugam's drama troupe had served as the platform for film-acting for many artistes who became well-known in the film industry through years. N. S. Krishnan, K. R. Ramasamy, S. V. Subbiah, S. V. Sahasranamam, A. P. Nagarajan, S. S. Rajendran, T. V. Narayanaswamy,, R. M. Veerappan, 'Friend' Ramasamy, M. R. Swaminathan, T. K. Ramachandran, M. N. Rajam, M. S. Dravupathi,, T. A. Jayalakshmi and Kamal Hasan are those who deserve special mention.
Shanmugam's first wife Meenakshi died within two years of marriage. Shanmugam married Seethalakshmi on 4-6-1948. The couple had three children – Kalaivanan, Pugazhendhi and Manonmani. Kalaivanan is running a drama company. Shanmugam, who devoted his entire life to the growth of Tamil drama died on 15-2-1973. The Tamil Nadu government has honored this veteran artiste by naming the street in Gopalapuram where he lived as 'Avvai Shanmugam Salai'.