Potpourri of titbits about cinema - Vyjayanthimala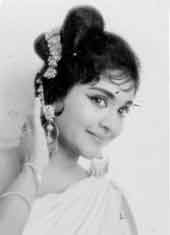 Vyjayanthimala, the beauty queen of yesteryears, captivated the cine-goers by her graceful dancing, natural acting and above all, by her astounding angelic beauty. The dance competition sequence in the film 'Vanjikkottai vaalibhan' where she challenges Padmini, another beauty queen of her time, is still remembered by people with the same appreciation.
Vyjayanthimala was born on 13.8.1933 to Vasundara Devi, the popular heroine of the film 'Mangamma sabhadham', produced by Gemini Studios. Her father was M. D. Raman. She took training in 'Bharathanatyam' from 'Vazhuvoor' Ramiah Pillai and her 'arangetram' was held in the year 1946. She entered cinema through A. V. M.'s 'Vaazhkai' in which she donned the role of the heroine. The film released in the year 1949. Her career in Tamil cinema continued with films that followed.
'Penn', 'Then nilavu', 'Irumbhuthirai', 'Parthibhan kanavu', 'Baghdad thirudan' and 'Rajabhakthi' were some of her memorable films. She was accorded a red carpet welcome by the Hindi filmdom and was sought after much. She acted with all the leading heroes of the Hindi screen too. She married Dr. Bali, a Punjabi on 10.3.1968. Bali was 47 and was a divorcee and had two children through his first wife.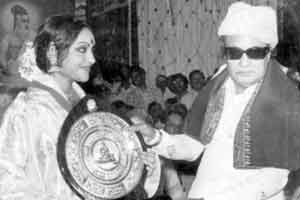 Vyjayanthi left films after marriage and joined the Congress Party to serve the country. She was elected as the member of the Parliament in the elections held in 1984 and 1989 from the south Madras constituency. Bali, who was very supportive to her political career died suddenly on 21.4.1986. Vyjayanthi's son Sucheendra offered full support to his mother during her election for the second term. Sucheendra entered the Tamil cinema through the film 'Kannodu kaanpathellaam', released in the year 1989. I got opportunities to meet Vyjayanthimala during this period and till today, my friendship with her continues on the same lines.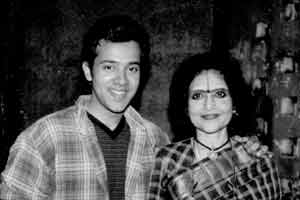 Vyjayanthi has done lot of research on 'Bharathanatyam' and has written books on her findings and research on the same. She has released many records also on the same. She ran a magazine 'Natyamala' for some time. She continues to give performances even today, at this age! She celebrated her son's marriage on 24.8.2009 in Bangalore. The advice she gave to her son and daughter-in-law Nandini after their marriage was unforgettable and provided food for thought. She said, "You should never be haughty, you should always remain humble, should keep up your word at any cost, should always be punctual and should never forget our culture, especially Tamil culture"!