MGRs Body Guard Ramakrishnan his Dupe too..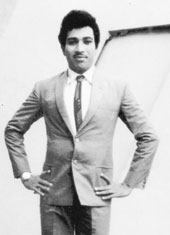 Even today when you watch any of the MGR films in which he had acted in dual role either on TV or in cinema theatre you will never find who is the real MGR and who is me. Similarly even in dance sequances of his dual roles you will not identify who is the dupe. It is the technical perfection knowledge of MGR about the camera angles and timings that made it possible. I have not seen any other actor with such a technical knowledge and understanding like him.
I must write about the generosity of MGR in treating the people in a deserving way here. In 1968 I had acted as a dupe to M.N.Nambiar for the film Boologa Rambai when I was also acting as a dupe to MGR.Instead getting offended, MGR took it very lightly and enabled me to act as a dupe to Nambiar in a number of films
M.N. Nambiar always had a soft corner for me and my family. He understood my living and family circumstances very well.When a small piece of land came for sale in Gopalapuram, he compelled me to buy the piece of land. I was not having enough money to buy and he made arrangements and helped me to pay the money in installments. But for his help me and my family may still be living in a rented house. I and my family are always indebted to Nambiar and will never forget his help.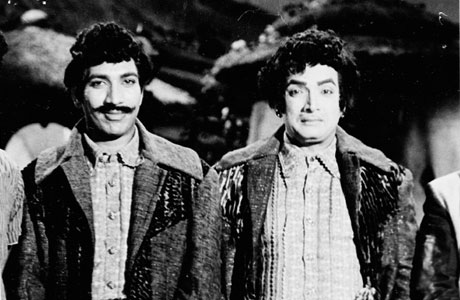 With Nadikar Thilakam Sivaji Ganesan I acted in films such as Bakkiyavathi, Sabash Meena, Pennin Perumai, Thangamalai Ragasiyam, Makkalai Petra Magarasi, Vazhivile Orunal, Padikkatha Methai and Lakshmi Kalyanam. In films such as Maman Magal, Vanjikottai Valiban, Kanavane Kankanda Deivam, Sowbaggiyavathi, Boologa Rambai, Mageswari, and Inthu latcham I acted with Kathal Mannan Gemini Ganesan. With Makkal Kalaignar Jaishankar I acted in films such as Muthu chippi, Panakarapen, Kannippen, and Raja Veettu Pillai. With Ravichandran I acted in Andru Kanda Mugam, with N.T.Ramarao in Ramudu Beemudu, Siluppi Krishadu, with Prem Nazir Chakkravalam,and some of the movies with Kanada actor Rajkumar. I also acted with Satrugan Sinha and Rajesh Kanna in Hindi films Gai aur Gowri and Seshatha respectively. In addition to that I had acted as villain,hitman, and rowdy in a number of films.