Thiraichuvai
By Majordasan
MGRs Body Guard Ramakrishnan his Dupe too..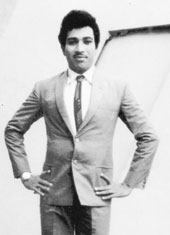 After registering in 1978 as Stunt Director I stunt directed Mugathil Mugam Parkalam a Vijayakumar acted movie and Thengai Srinivasan acted movie Sri Rama Jeyam. I also worked as stunt director for two Malayalam films.
When Makkal Thilagam MGR became the Chief Minister of Tamil Nadu in 1977, we all informed the personal secretary MGR Mr. Sabapathi our plight of losing the post as personal body guards of MGR and the problem faced by us in getting acting chances in films.
Sabapathi conveyed this news to our leader MGR. Immediately MGR ordered for issuing a government order to appoint me, M.K.Dharmalingam, Norther Singh, Seen Muthu, Shankar and Sami as his personal guards and enabled us to get government salary. He went a step ahead and wrote, the next government if willing can keep us for the positions. He ordered this to honour our sacrifice of being with MGR from the day he started the new political party. When Ramakrishnan completed the narration, he was not able to control his tears from the eyes.
We wholeheartedly appreciated Thiru Ramakrishnan who consideres his 35 years of close association with MGR in drama, films, and political area as his shadow, personal body-guard and a true loyalist without any expectations and considers them as the benefit of his birth and continue to live with the feelings of remembrance and took leave from him.
Ramakrishnan is still looking forward to act in films as a villain and as a character artist with the same agility.