Potpourri of titbits about Tamil cinema - S.V. Sahasranamam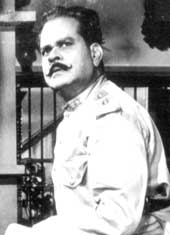 Though, he has acted in over 200 films, which include Menaka, Parasakthi, Kuladeivam, Anandha Jothi, Nalla Thambi, Policekaran Magal, Padithal mattum Pothuma, Singari, Marmayogi, Poombavai, Manamagal, Kangal, Urimaikural, Naluveli Nilam, Alli Petra Pillai and others, till he breathed his last, he was always interested to act in dramas. During the early stages of his life, he worked as car a driver, mechanic, drama and cinema production executive, to manage his everyday life'.
Kumar further said, 'my father was a specialist in designing drama stages and offered his expert guidance in the construction Raja Annamalai Mandram, Rani Seethai Mandram, Kalaivanar Arangam, South Indian Cinima Artists Association, Sankaradas Swamigal Kalai Arangam and Tirupathi Venkateswara Sarva Kalasalai Arangam. As an ardent Gandhian throughout his life he wore only Kadhi dress and treated Mahakavi Bharathi and Mahathma Gandhi as his favourite gods.
Once, story and dialogue writer Ilangovan, aspired to produce a film on his own. At that time, one of his friends from Calcutta, produced a film by name Sakthi Leela and wanted to release it at Chennai, with some corrections. Ilangovan. changed some of the portions in the story and contracted M.R.Santhanam for the Parvathi's character. My father, who acted as Siva in one of the dramas with a live snake and performed a dance, was booked for the character of Siva.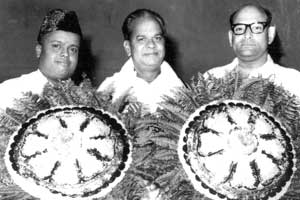 But, during that time, MGR and MR.Radha who were close to my father, were struggling for their survival, without proper acting rolls. My father, immediately recommended MGR for the role of Siva, for a payment of Rs.500/- and MR.Radha for another role for Rs.700/-, to Ilangovan. In such a way my father has helped a number artists in cinema and drama when there were in trouble'.
Kumar stated, from 1974 March to 1988 February my father had suffered more than five heart attacks. Even during his last days, he was busy in staging a drama called Nandha Vilakku. He had selected the artists for the drama and asked them to come to a rehearsal on 21st February 1988. But, he suffered a massive heart attack on 19th February 1988 and died at 4.30 PM probably to continue the rehearsal of Nandha Vilakku at gods abode heaven.
S.V.S.Kumar, the son of S.V.Sahasranamam, currently acts in a number television dramas.