Potpourri of tidbits about Tamil cinema -
Director Sando Chinnapa Devar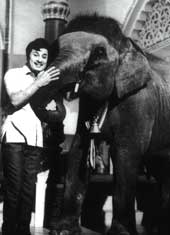 Nagi Reddi, who bought the negative rights of this movie dubbed the movie in Telugu and released it. In Telugu also, the movie was a box-office hit. MGR sent a legal notice to Devar for not getting his permission to dub it in Telugu. Nagi Reddi came to Devar's rescue by sending a strongly-worded counter to MGR. And, he helped Devar to continue his business in cinema. This incident created a rift between Devar and MGR and they separated. After the rift, Devar produced films with other heroes like Ranjan, Udhaykumar and Gemini Ganesh. 'Neelamalai thirudan', 'Sengottai singam', 'Vaazhavaittha deivam', 'Yaanaippaagan', 'Kongu naattu thangam', etc. all proved huge hits and Chinnapaa Devar became a big name in the industry.
At this juncture, MGR and Devar reunited thanks to the great efforts of 'Kalaivaanar' NSK. After the reunion, MGR acted in sixteen films produced by Devar - 'Thaai sollai thattaathae', 'Thaayai kaattha thanayan', 'Kudumbatthalaivan', 'Darmam thalai kaakkum', 'Needhikku pin paasam', 'Vettaikkaaran', 'Thozhilaali', 'Kanni thaai', 'Mugarasi', 'Thanippiravi', 'Thaaykku thalaimagan', 'Vivasaayi', 'Thaer thiruvizhaa', 'Kaadhal vaahanam' and 'Nalla neram'. It was a privilege for Devar Films as MGR didn't work for any other production company as he did for Devar Films. It was only Devar who was able to produce this number of films with MGR with just 3 to 5 months gap in between the releases.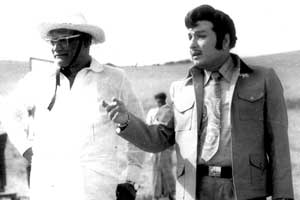 Devar was an animal lover. He fostered many animals including horses, elephants, lions, cheetahs, tigers, rhinos, etc. at his vast garden at Kodambakkam. And, he was bold enough to experiment by including some of the animals in the cast in his films! A staunch devotee of Lord Muruga that he was, he included peacock and cock, snake and goat also in some of his films.
Major Sundarrajan and Devar were very close as both had a strong liking for each other. Devar always made it a point to create a suitable role for Major in all his films. He produced 'Deiva seyal' in the year 1967 in which Major's role was more weighty and prominent than that of the hero Muthuraman. Devar also acted with his animals including elephants, lions and rhino in the film 'Deiva seyal'. But the film didn't do well commercially. But, without losing heart, he remade the film in Hindi with Rajesh Khanna as the hero. The movie 'Haatthi meraa satthi' became a huge hit. Then, he remade the story with some modifications with MGR. The film was a run-away success. But Devar was bold enough to tell everyone that the performance of both MGR and Rajesh Khanna was only 50% of Major Sundarrajan's performance in 'Deiva seyal'.
But Devar didn't produce even a single film with the great actor Sivaji Ganesan! What was the reason?
KM Matrimony Best Services –