Thiraichuvai
By Majordasan
Potpourri of tidbits about Tamil cinema -
Director Sando Chinnapa Devar
If Kamaraj was looked upon as an 'unlettered' genius in the field of politics, so was 'Sando' Chinnapa Devar in cinema. He was referred to as 'Padikkaatha maedhai' by people in the Hindi and Telugu film industries too.
Devar was born to the couple Ayyavu Devar – Ramakkaal at Ramanathapuram on 28-6-1915. He had an elder brother who was called 'Bayilvan' Subbiah Devar and had three younger ones – Nataraja Devar, Arumugam and Mariappan. Arumugam started his career as an editor in the cinema field and eventually became a director, changing his name as M. A. Thirumurugan. Chinnapa Devar studied only up to 5th Std. Due to family circumstances he had to leave his studies in the middle and work to earn for the family. He did small business in milk, soda and other commodities. But, his penchant for fine arts never left him. He started doing physical exercise in the gymnasium started by his elder brother and his friends. He did vigorous exercise and also learnt single stick, sword-fight and boxing. Thanks to his regular exercise and care he was able to maintain a perfectly shaped body and good physique. And, he taught many all these arts and helped his students develop their skills.
He made his debut in cinema with the help of his elder brother in the year 1940 through the film 'Thilothamai'. Then followed 'Venugaanam' in 1941. In 1947, he earned the friendship of MGR when he shared screen space with him in the film 'Rajakumari'. MGR learned sword-fight and 'silambu' fight from Devar during his free time. Devar did minor roles in the films 'Mohini', 'Marmayogi', 'Mangaiyarkarasi', 'Raani', etc., but he captured the attention of the viewers through his natural acting and fighting skills. He started his own production company 'Forward Art Films' in the year 1953 along with actor S. A. Natarajan and cameraman J. G. Vijayam. The company produced its maiden film 'Nalla thangai' for which A. P. Nagarajan wrote the script. The film was a huge hit.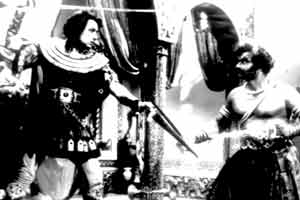 The company's second venture was 'Padmini'. On the advice of A. P. Nagarajan, Devar launched another production company exclusively on his own on 7-7-1955 and named it Devar Films. He was the sole proprietor of the company. 'Thaaykkuppin thaaram' was the maiden production of the company with MGR and Bhanumathi in the lead roles. He made his younger brother Thirumurugan, who was working as the editor of Jupiter Pictures a director by giving him the opportunity of directing the film 'Thaaykuppin thaaram'. Great artists like Kannaamba and T. S. Baliah were also in the cast. The film proved a run-away hit.
KM Matrimony Best Services –