Potpourri of tidbits about Tamil cinema -
Director Sando Chinnapa Devar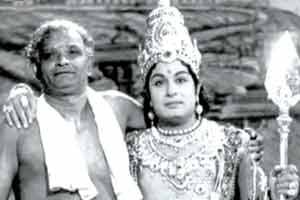 "I wasn't able to get a story suitable for Sivaji …!" – 'Sando' Chinnappa Devar
Sivaji Ganesan had lot of admiration and liking for 'Sando' Chinnappa Devar. But Chinnappa Devar didn't make even a single film with Sivaji. When his film industry friends and media persons asked him for the reason, he said that he couldn't get a script suitable for Sivaji. Devar firmly believed that it was entirely due to the grace of Lord Muruga that he was able to continue as a successful producer. And, he made it a regular practice to donate 25% of his profit amount to temples, especially to temples of Lord Muruga.
His hits included 'Deiva Thirumagan', 'Kaattu Rani', 'Magarasi', 'Thaayum maganum', 'Naervazhi', 'Akka thangai', 'Thunaivan', 'Penn deivam', 'Maanavan', 'Kettikkaaran', 'Deivam', 'Gomathaa en kulamathaa', 'Vellikkizhamai viratham', 'Thiruvarul', 'Thayillaa kuzhanthai', 'Murugan adimai', 'Sorgam naragam', 'Aattukkaara Alamelu' and 'Thai meedhu satthiyam'. And, he dubbed many of his films into Telugu and released them. After the success of his Hindi film 'Haatthi meraa satthi', he produced 'Jaanvar aur insaan', 'Gaay aur gori', 'Subhdhin', 'Raja', 'Maa', 'Meraa ratchak' and 'Jeeth hamari' in Hindi.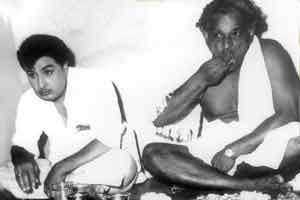 On 6th June 1978, during the shooting of the film 'Thai meedhu satthiyam' at Ooty, Devar complained of chest pain and was admitted to a hospital at Coimbatore. He recovered only partially and again got chest pain on 8-9-1978 and died in spite of intense treatment. He was only 63 when he died. The day was a 'Shashti' day, very special to Lord Muruga. Being a staunch devotee of Lord Muruga, Devar had the grace of the Lord to reach His lotus feet on this auspicious day.
KM Matrimony Best Services –