Potpourri of titbits about Tamil cinema - Major Sundarrajan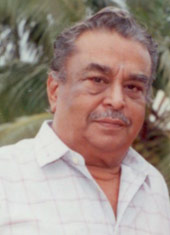 The name Major Sundarrajan will bring to our mind a man with an imposing personality as well as a majestic voice. There's no role that Major, who had more than 600 films to his credit, had not done. He was not only an actor but also a director. He had directed Kalthoon, Indru nee, naalai naan, Nenjangal and Andha oru nimidam. His only son Goutham is also in the film industry and the small screen as an actor.
My cousin Shyamala who is the wife of Major was responsible for changing my name to Majordasan from Devadhirajan. Major was my guide, friend and philosopher. He introduced me to many VIPs in theatre, media and film industry. My marriage was also presided over by him.
Major hated those who lied. He always used to have soft corner for genuine people. He was a good cook also. Sivaji Ganesan was always fond of Major's cooking. Sivaji used to invite Major to his house and would ask him to cook both vegetarian and non-vegetarian dishes that he enjoyed the most. We can even write a book on the close friendship between Sivaji and Major.
Following are excerpts from what Major had told me:
Major was born in Madurai and had his education in Periyakulam. In the year 1949, when he was in the sixth standard, his Hindi teacher Srinivasa Rao offered him a role in a Hindi drama that was staged on the annual day of the Kalaniketan library. The role required Major to express discomfort after eating a large number of idlis! When Major hesitated, Rao encouraged him telling him that he would take care of his acting and everything. Major's brother Rajagopal was also included in the cast. Major's father Srinivasa Iyengar had acted in stage dramas. Thanks to the encouragement of all, Major acted in many school dramas as well as college dramas. He did mono-acting also. Then, he came to Chennai and stayed with his uncle Veeraraghavan, who was also an actor and continued his acting in stage dramas while at the same time, he worked in the telephone department.
Major's first film was 'Vaijayanthimala'. The hero of the movie was T. R. Mahalingam and M.N.Rajam was the heroine. Major did the role of an inspector. The film was directed by Sundar Rao Natkarni (the director of the movie Haridas). But the movie never saw the big screen, it was never released. Major was upset that his first movie itself was shelved. Then, he acted in Pattinathar in which he donned the role of a Chola king.