Potpourri of titbits about Tamil cinema - Director Sridhar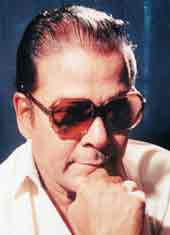 Director Sridhar ushered in an era of new concepts in Tamil cinema. Among his many achievements, introduction of informal language for dialogues was the most appreciated and received with great response. He was born to Vijayaraghavalu Reddiar – Thayarammal on 22 July 1933 at Siddhamur village near Mathuranthakam. He was encouraged by his classmates in school and college as well when he used to write and enact dramas. He came to Madras seeking opportunities in cinema industry. He wanted to become a scriptwriter. But Jupiter Pictures employed him as a distribution representative. The job required delivering film boxes at theatres and sending collection details. But during this time, he continued to write stories and dialogues in notebooks.
When he offered his script 'Latchiyavadhi' for production, it was rejected by all the directors. But T. K. S. Brothers, the doyens of stage drama were impressed by the theme and its presentation. T. K. Shanmugam was very much fascinated by Sridhar's talents. The script, renamed as 'Rathapaasam' was enacted as a stage drama at Rasika Ranjani Sabha by the troupe on 11 November 1951 in Madras. The play received much applause. During the interval, Sridhar who was only 18 at that time was introduced to the audience as the scriptwriter of the play by T. K. Shanmugam. Subsequently, the play was filmed by Jupiter Pictures with T. K. Shanmugam and Anjali Devi in the lead roles in the same name. Sridhar wrote the dialogues. R. S. Mani directed. The movie, released in the year 1954 became a blockbuster. The same film was remade in Hindi by AVM under the title 'Bhai-bhai' with Ashok Kumar and Kishore Kumar in the lead roles as brothers. The Hindi version also proved a run-away success. The entire Indian film industry threw open its doors to Sridhar and welcomed him with open arms. 'Uthama puthiran' is one of the hits Sridhar gave. Kalyana parisu, Nenjil or aalayam,Vidivelli, Then nilavu, Sumai thaangi, Kaadhalika neramillai, Vennira aadai, Sivantha mann, Nenjirukkum varai, Kalai koil, Avalukkenru or manam, Uthiravinri ulle vaa (the film was directed by Sridhar's assistant director Chakravarthy), Ilamai oonjalaadukirathu, Ninaivellaam Nithya, Thudikkum karangal, Vaira nenjam, Urimaikural and Meenava nanban were among his popular movies. Many of these films were remade in other languages including Hindi.
Sridhar was also a publisher of a film magazine Chitraalaya. For those who were eager to enter film and media, Sridhar was the inspiration. His wife Devasena was very much attached to him till his end which came on 19-10-2008. People like me, who were close to his family, know this truth. When Sridhar was paralyzed, I met him at his Neelankarai residence. Though he couldn't talk fluently, he managed to tell me about his script he had in mind for Rajinikant and about another script meant for Ajith. I wept at his words moved both by his zest and inability.
Sridhar's each and every film can be considered a lesson or even a lexicon for all those who want to enter films.