Potpourri of titbits about Tamil cinema - Major Sundarrajan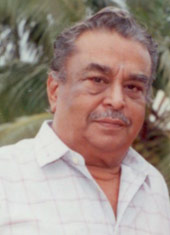 Playback singer T. M. Soundarrajan was the hero. The movie was released in the year 1962. Subsequently, Major got opportunities to act in K. Balachander's stage dramas. Major acted as a major in the drama 'Major Chandrakant'. When the drama was staged in English, Balachander did the role of the major. The drama won fame and name for Sundarrajan. When the drama was filmed by A. V. M., Major did the same role in the movie too. His acting was appreciated very much by all. Film magazine 'Pesum padam' awarded the title 'Major' to Sundarrrajan as a tribute to his acting talents. And, Sundarrajan became 'Major' Sundarrajan.
MGR, who was a fan of Major, had offered him roles in many of his films. At the World Tamil Meet, held in Madurai, 'Kalthoon', a favorite of Major was staged thanks to the recommendation of MGR. And, it was an unforgettable experience for Major when he saw MGR sitting on the floor as one among the people and enjoying the drama.
Major, along with Sivaji and V. K. Ramasamy was responsible for the growth of South Indian Artistes Association. During his tenure, Major was caught in many problems due to the mischief of his dissidents. Sivaji was also put to problems.
After the failure of many films, Major realized that stage experience was in no way helpful in directing movies as there was lots of difference in directing a play and a movie. People were satisfied with just a good story when watching plays but they expected some entertainment also for a movie, Major understood.
Major returned home after undergoing treatment for his heart problem at the Vijaya Nursing Home at Vadapalani and he continued to receive treatment at home itself for some time. He died all of a sudden on 28th February 2003 after returning home attending the wedding of his brother Sampath's son. His death is a great loss to the film industry as well as his friends.
'Nadigar Sangam' should do something in commemoration of Major's death anniversary every year. This is everybody's wish.