Thiraichuvai
By Majordasan
Potpourri of tidbits about Tamil cinema
- Kalaivanar N. S. Krishnan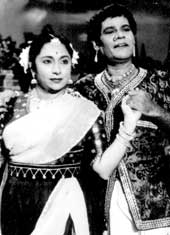 NSK had two sons and one daughter through his first wife Nagammai. Both the sons Raja and Kolappan are no more. Madhuram was his second wife. The baby girl Kalaiselvi born to Madhuram died when she was just four months old. NSK married Madhuram's sister Vembhu also but with the consent of Madhuram. NSK had seven children through Vembhu – Kittappa, Vadivambhal, Shanmugam, Kasthuri, Nallathambi, Kumaran and Padmini Sivaprakasam. His grandchildren and great grandchildren total 14 in number. All these children remember NSK's death anniversary and birthday and celebrate these days with great affection and respect even today.
During his last days, when he was ailing, NSK was admitted to the General Hospital. During his treatment here, all the artistes including M. K. Thyagaraja Bhagawadhar and MGR visited him and comforted him. Even during his illness, NSK didn't lose his sense of humor and talked to all his friends and relatives with humor dominating his talk. The hospital was thronged with his fans and friends. An ardent fan of NSK managed to enter the room where NSK was lying and burst into tears telling that there was a rumor that NSK was dead. Unable to bear the grief, the fan had managed to escape through the security ring and enter NSK's room. The next day, a producer from Salem came and told NSK that all the theatres in Salem were closed and black flags were flying half-mast due to the rumor about NSK's death. After comforting all such people who came rushing to see him, NSK told Madhuram in a lighter vein that people wouldn't stop till he really died and that he had to die at least for their sake! And, he died on 30-8-1957 at a young age of 49 years is spite of intensive care and treatment.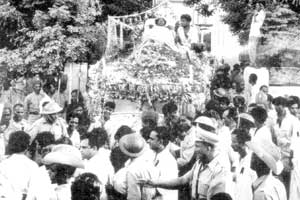 Fans from other states and foreign countries too attended his last procession. It looked as though the city of Chennai was paralyzed due to the death of the great comedian. The sight was proof enough to show that thanks to his reformist ideas and views, NSK succeeded in winning a special place in the heart of all the Tamils, not only in Tamil Nadu but also in all the states and countries.
KM Matrimony Best Services –