VIP Interviews - ( Anbe Anantham )
Love is bliss …! – Music Director Bharadwaj
Q: Tell us about your family …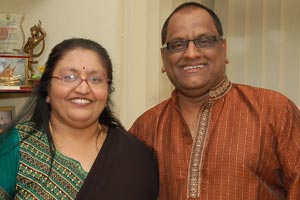 A: : My wife is Jayashree. My daughter Jananee is married. My son-in-law's name is Karthik. Presently, they are in America. My daughter is a very good singer. They'll be returning to India soon. My daughter is interested in singing for films. We are sure she'll get great opportunities soon. There's a practice in our family. If we leave our native place and go to other places for job, we should return to our native place after retirement and do farming. My grandfather, father all followed this practice. When I feel I've achieved enough in my musical journey, I'll also return to my native town. We can be successful in our field only if we've the grace of God, the blessings of our elders and the support of our family members. I am lucky that I've all these to my full satisfaction.
(When we asked Jayashree Bharadwaj to tell us what she feels about her husband and his career, she spoke in a voice exuding enthusiasm and happiness)
Jayashree Bharadwaj: I am thankful to God for giving me a good marriage and life. Bharadwaj doesn't know anything about the household matters. I feel it is not necessary also when I am here to take care of everything. He can concentrate on his career only if he is spared of the responsibility of household. I wanted to get degrees in English and Hindi. He supported me when I did post-graduation in both these languages. I've done M. Phil and will be completing Ph. D. also in Hindi. My daughter is a very talented singer. Her husband also is a music lover. I can say that we are having a 'musical' life!
/Kalyanamalai expressed its wish that Bharadwaj should compose music for Hindi films too as he knows the language very well. He replied in a lighter vein, "I am adding sweetness to the lives of all through 'light music'; you are adding sweetness to the lives of all through your 'Light Foundation!"