Love is bliss …! – Music Director Bharadwaj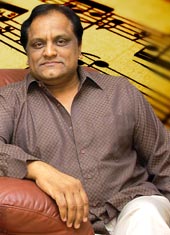 Like the national anthem, the song 'Ovvoru pookkalumae …" was heard everywhere during a period of time! While the lyric bears words of immense meaning, the music captured the hearts of all with its exotic handling. Bharadwaj, who scored the music for this song is not only a great music composer but also a great singer too who made waves with his songs "Gnaabhakam varudhae …", "Pallikkoodam pokalaam …" etc. sung in his distinctive voice. When we met his wife Jayashree, his only daughter Janani and son-in-law Karthik, we realized the truth that the foundation for his inimitable success lies in his family bonds. In the early years, though he was a chartered accountant by profession, he realized that music was in his blood. And, his wish became a reality with the wholehearted support of his family.
On behalf of 'Light Foundation', Kalyanamalai catches up with this great composer on a breezy evening for the sake of its readers:
Q: We know that you were brought up in Delhi, it is really very surprising that you are able to sing beautifully in Tamil with correct pronunciation … and, you've started composing music to all the verses of 'Thirukural'! Please tell us about your background …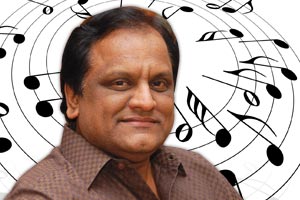 A: My native place is Ravanasamudram of Thirunelveli district. This village lies at the bottom of the Podhigai Hills, at a few kilometers away from Kutraalam and Thenkasi. Our ancestral house, lands are all still there at this village. I was born here only. Kadayam, the hamlet where the great poet Bharathiyar lived for many years is also situated close to this place. The place is rich in nature with luxuriant greenery. I had all my studies in Delhi as my father had to shift to Delhi because of his job. I studied in the school, run for Tamils. I know Hindi very well, both written and spoken. I am adept in my vernacular language, the beautiful Tamil, the national language Hindi and the global language English. I was keenly interested in music even from my schooldays. During my college days, I learned Carnatic music at the Delhi University and Hindustani music from a private teacher. I got an opportunity to perform at the All India Radio, Delhi, which proved the first step in my career as a music director. At the radio station, they put the condition that the song that I chose to sing should not have been picked up from any record and that the music must have been composed by the AIR artists or me. I wrote the lyrics, composed the music and sang also. I would remember the Delhi Radio till end because it brought out the lyricist, composer and singer in me! I got the first prize for my song. When I decided that I should take music as a full-fledged profession, I chose Chennai as my base. I joined a firm in Chennai and looked out for opportunities.