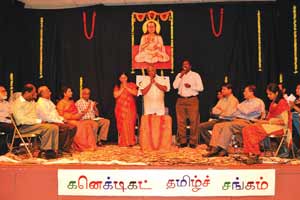 Connecticut is a beautiful place, situated at around 100 miles from New York. Connecticut River, the American heritage river is one of the major rivers of America. The famous and worldly-known Yale University is in this state that is populated by 35 lakh people.
We decided to travel to Connecticut by train. We boarded the train at the Grand Central Station in New York from the 148th platform. The extent of the station could be easily gauged from this. We got down at Bridge Port beach. Selva, a member of Connecticut Tamil Association and his wife Lalitha received us with a warm welcome. We had a very tasteful lunch at a south Indian hotel.
A debate on the topic "Family system – India - America" was conducted at Newington Vallabhdham temple auditorium after the arrival of Ramesh Nachiyappan, president, Connecticut Tamil Association, Nambi Srini, vice president, Uma Sekhar, secretary and Gerald Jeyaraj, deputy secretary. The orators spoke very well amidst thunderous applauses. Each group had six speakers, all members of the association. 'Kalyanamalai' Mohan and I conducted the debate.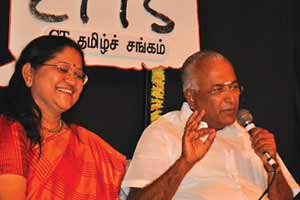 The program was a great success that it became an unforgettable event not only to the parents on the look-out for alliances but also to the Tamils that were present there.
Houston Meenakshi temple that stunned us evoking a feeling of being at Madurai … 'Navarathri' festival …
KM Matrimony Best Services –