Thiraichuvai
By Majordasan
Potpourri of titbits about Tamil cinema - Manorama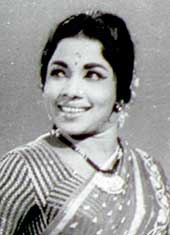 Manorama, the veteran artiste has the distinction of having acted with all the five chief ministers of Tamil Nadu – 'Arignar' Anna, MGR, M. Karunanidhi, V. N. Janaki and Jayalalitha. And, she has another feather in her hat – she is the only artiste to have acted with all the leading heroes and heroines and all the comedians too. She has more than 1,300 films to her credit and has the credit of having her name in the Guinness record.
Manorama's native place is Rajamannarkudi in Thanjavur district. Her father was Kasi Kilakudaiyar and mother was Ramamirtham. Her given name was Gopisantha. She changed her name to Manorama when she entered the stage. When she was young, she used to sing the song 'unnazhagai kaana iru kanngal podhathe …' sung by Thyagaraja bhagavadar in the film Thiruneelakandar. Her mother, impressed with her daughter's talent took her to many films and encouraged her to sing the songs in those films. Due to family problems, Ramamirtham left Rajamannarkudi and settled down in Pallathur, near Karaikudi. Manorama married S. M. Ramanathan, a stage artiste with whom she fell in love. But just 15 days after the delivery of her child, problem arose with her husband. And, she received a notice for divorce as the problem became more serious and intensified. Manorama put her feet on the sands of Chennai when she got an offer from S. S. Rajendran's troupe. And, she entered cinema through her first film 'Maalaiyitta mangai' in the year 1958. She continued her theatre performances alongside cinema.
I was one of the people who were in charge of arranging the staging of Manorama's play 'India today' at the Mariyamman temple festival in Erode in the year 1982. My friendship with this great artiste started on that day and is still very strong till date. I've interviewed her on so many occasions and in all her interviews, she would never forget to tell a few words about her mother. When I asked her about her role as heroine, she listed 'Konjum kumari (1963), Alankari, Adhisaya penn, Periya manithan etc. Movies titled 'Inbha vaazhvu' and 'Oomaiyan kottai' were stalled during making. And, she had acted as heroine in a Hindi film, 'Kunwara bhaab'. The hero of the movie was the popular comedian Mehmood. And, she has paired with Sivaji Ganesan in the film 'Gyanaparavai' (1991). She was signed for a film titled 'Aasai manaivi', but, when she learned the storyline, she was shocked. A family woman runs a brothel with her own daughter – this was the theme. Manorama returned the advance, refusing the offer.