Potpourri of titbits about Tamil cinema - Thengai Srinivasan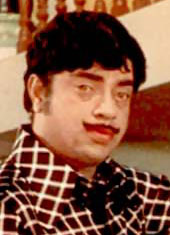 'Thengai' Srinivasan, as popularly known, reigned over the Tamil filmdom in the field of comedy. Though basically a comedian, he proved himself an all-rounder by excelling in roles other than comedy. He excelled as hero, villain and also character artiste. He had more than 900 films to his credit but he remained simple till end. His exclusive gestures and improvised comedy dialogues entertained all groups of cine-goers. I had received applause for my performance in stage plays mimicking his style. And, I had shared this joy with him during some of my meetings with him.
His native place was Srivaikuntam in Tuticorin district. He was born to Rajavelu Mudaliar and Thaayammaal on 21-10-1937. He had two sisters. When Srinivasan was seven years old, his family shifted to Chennai. Srinivasan got interested in acting due to his father's influence, who was a stage artiste staging many plays. Srinivasan's first stage appearance was through the drama 'Galatta kalyanam', his father's play. Srinivasan became popular by staging this play at various places. Then, he joined the drama troupe, run by writer Ravindar and actor K. Kannan and became very busy as a stage artiste. He earned the prefix 'Thengai' for his excellent performance as a coconut vendor in the drama 'Kal manam', staged by Kannan. The then popular comedian K. A. Thangavelu, who watched the drama, appreciated Srinivasan for his performance and declared that thereafter Srinivasan would be known as 'Thengai' Srinivasan.
'Thengai' Srinivasan's first film was 'Oru viral'. He did the role of a CID officer. It was a comedian role. When asked about his favorite movies, Srinivasan said that he liked all his films with 'Makkal thilagam' MGR. And, he enjoyed acting with 'Nadigar thilakam' Sivaji too. The movies included 'Kaliyuga Kannan', 'Porter Ponnusamy', 'Naan kudithukonde iruppen' etc. And, his films with Rajini and Kamalhasan were also unforgettable for him.
When asked about the unforgettable bitter experiences in his life, 'Thengai' recalled some with painful memory. He said that many cheques given by producers had bounced. He had outstanding amounts running in crores. He had many health problems, both major and minor and his medicine box used to be a mini medical shop. He wanted to make a film with MGR but it didn't materialize. But, he produced a film with Sivaji, 'Krishnan vandhaan'.
'Thengai' used to tell frequently that he was prepared to sacrifice even his own life for the sake of MGR, who cared for him the most. He joined MGR's AIADMK and gave public speeches at various villages canvassing for the party. When he went to Bangalore to attend the rituals in connection with his aunt's death, he had hemorrhage in brain and had stroke. In spite of intensive treatment, he died on 9-11-1987 in an unconscious state at an early age of 51 years. His body was brought to his house at Ramasamy Street in Gopalapuram in Chennai in a van. All the VIPs in film industry and his fans paid their last homage and gave him a send-off with tearful eyes.
'Thengai' Srinivasan's wife's name is Lakshmi. The couple has two daughters, Geetha and Rajeswari and a son Shivshankar. Geetha's son Yogi and Shivshankar's daughter Srutika have entered the film industry. With the blessings of 'Thengai Srinivasan', his grandchildren would surely be successful in their career.