Potpourri of titbits about Tamil cinema - S. S. Rajendran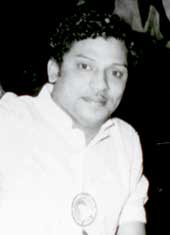 S. S. Rajendran was introduced to Tamil cinema through the hit film Parasakthi, released in the year 1952 (Diwali release). Attractive personality and correct and clear pronunciation of Tamil words are his two big assets. This handsome hero belongs to Sedapatti hamlet near Usilampatti in Madurai district. His father Suryanarayana Devar was an official in education department. His mother's name was Adilakshmi. SSR's sister Pappammal married actor T. V. Narayanaswamy.
Born in January, 1928, SSR got offers to act in stage dramas even when he was in the 6th std. He started acting in the plays of Boys Drama Company and T. K. S. Brothers Drama Company. During these plays, he was fortunate enough to get introduced to 'Thanthai' Periyar and 'Arignar' Anna. He got his first film offer in Abhimanyu, but, due to an unavoidable reason, the opportunity was lost. But SSR didn't lose heart. While S. M. Kumaresan did the role offered to SSR, MGR donned the role of Arjuna. SSR became a play-back singer by singing the song "inba ulakileye manmadhan poonganai …" in the film "Aandaal", produced by Salem Moorthy Pictures. National Pictures Perumal produced "Parasakthi", jointly with AVM. SSR was introduced in that film in the character Gnanasekharan, as the elder brother of Sivaji Ganesan. The dialogues were written by 'Kalaignar' Karunanidhi. The film was a blockbuster. Manohara, sOrgavaasal, ammaiyappan, Rathakanneer, KUladeivam, RAngon Radha, Mudalali, Thai piranthaal vazhi pirakkum, Kalyanikku kalyaanam, sIvagangai seemai, kanchi thalaivan, kaakkum karangal, Raja Desingh, Deivapiravi, Aalayamani, Pachai vilakku, pUmpuhar, Pazhani, Shanthi, Ethiroli were some of the films that followed, making SSR a hero in demand. SSR worked non-stop during those years. And, in the meantime, he started a drama also company in the name "SSR Nadaka Mandram" and started staging plays. He gave opportunities to artistes including M. N. Rajam. Sheela, Manorama and Muthuraman and paved the way for a new place for them in cinema.
He joined the DMK party and contested from Theni constituency in the assembly election, but lost by a margin. And, he again contested from the same constituency in the 1962 assembly election and won. Subsequently, he was made a member (MP) of Rajya Sabha. Later, he joined the AIADMK and won from Andipatti constituency in the 1981 assembly election. He was appointed deputy chairman of Small Savings Scheme. But, today, he is totally away from politics. And, in cinema, he is very selective about the roles. Recently, I told him that he should accept the offer and do the role of the chief minister in the film "Theekuchchi", as everybody wanted him only to do the role. He agreed and did a beautiful job. I still keep meting him at his Eldams Road residence at Teynampet. Whenever I go there, SSR will appear very fresh, majestic and clean-shaven. He is fully informed of the state of affairs in cinema industry, politics and general issues. Ilangovan, Rajendrakumar, Kalaivanan, Selvaraj and Bhagyalakshmi were born to SSR and his wife Pankajammal. Ravikumar was born to SSR and Vijayakumari. Kannan and Lakshmi were born to SSR and Thamaraiselvi. Kannan is an actor both in the small and big screens.
SSR has written his autobiography, which he is planning to publish as a book. Once, when I asked why he had not acted in any mythological films, SSR replied that he refused to act in mythological films because he was a strict follower of Periyar's policy of rationalism. He added that he had not acted in any film that was against his policy. And, that was why he was always referred to as "Latchiya nadigar' by both Periyar and Anna. Initially, SSR was offered the role of Bharadha in "Sampoorna Ramayanam" film, but he refused the offer. Sivaji Ganesan did the role. SSR was full of praise for play-back singer T. M. Sounderarajan and his ever-green songs that are still very popular. He referred to him as the "Golden treasure" to Tamil cinema.
I wish SSR, who is sticking to his policies amidst many odds during a time while so many artistes are living with no policy for them, a very long and healthy life. His contribution to cinema is unforgettable and will remain green in the minds of all cine-goers.