Potpourri of titbits about cinema - Pandari Bai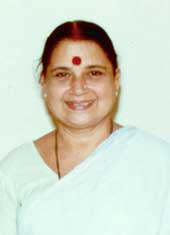 "Loving request to husband …!"
Pandari Bai, a veteran actor of yesteryears was a very warm and pleasing person to mingle with. Her given name was Geetha. She was born to the couple Rangarao – Kaveri Bai in November 1939 at Pathal hamlet in Karnataka State. Her parents who lost their elder daughter prayed to the deity Pandurangan at the Pandaripuram temple to grace their new-born daughter with a long life and promised to change her name to Pandari Bai to mean that the child belonged to Pandurangan and not to them. Pandar Bai had nine siblings.
Pandar Bai's father, who worked initially as a drawing master, started a drama company after sometime. And, simultaneously, he was performing 'Harikatha kaalakshepam' at temples and public functions. He taught the art to his daughter Pandari Bai even at her tender age of ten years. Pandari Bai entered cinema with the help of her brother through the Kannada film 'Vaani'. Then followed Haridas, MKT-starrer in which she did a minor role. She was 14 years at that time. Haridas was her first film in Tamil. She missed the opportunity to act in the Tamil version of the film 'Vaazhkai', but she got a role in its Hindi version 'Bahaar'. 'Parasakthi', 'Kannkal', 'Thirumbi paar', 'Andha naal', 'Marmayogi', 'Enga veettu pillai', 'Kudiyiruntha koil', 'Adimaippenn', 'Dheyvathaai', 'Mannan' are some of her popular movies in Tamil. She had more than 1,500 films to her credit that included movies in other languages also – Telugu, Kannada, Malayalam, Bengali, Urdu etc. her last film was 'Jai Hind'. She produced her own film 'Anuradha' in Kannada language which fetched her President's Award.
Pandari Bai's husband P. H. Rama Rao, a doctor by profession was doing many other businesses side by side. The couple didn't have children. Pandari Bai's younger sister Mynavathi is also an artiste. She has acted in more than 50 films including 'Kula deivam', 'Kanngal', 'Pon vayal' etc.
On 18-12-1994, when Pandari Bai was returning to Chennai after having participated in a function outside the city, the car she was traveling in was hit by a lorry near Vellore. She sustained heavy injuries and lost her left arm. Her health started deteriorating from that day. The then chief minister of Tamil Nadu, Jayalalithaa gave her financial assistance to meet her medical expenditure. Pandari Bai's health started improving and she was able to lead a normal life for sometime. But she died on 19-1-2003 due to setback in her health. She was 74 when she died.
She constructed Sri Pandurangaswamy temple inside the compound of her own house at Vadapalani in the year 1958 on a 4.5 ground plot. And, sannidhis for Lord Vinayaka, Anjaneya and Amman were also constructed inside the temple. People started visiting the temple. Pandari Bai told her husband to hand over the temple to Udupi Sri Bejwara Mutt at an appropriate time as there would be nobody to take care of the temple after their death. Rama Rao handed over the temple as well as the house to the mutt on 22-3-2004 and settled down in Perungudi near Tambaram. He had written a biography of Pandari Bai in Kannada language. He died last year.