Thiraichuvai
By Majordasan
Potpourri of titbits about cinema - Sirkazhi Govindarajan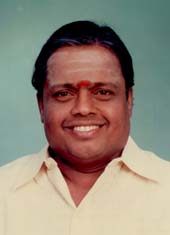 I used to make it a point to meet Sirkazhi Govindarajan wherever he gave a concert, be it at temples or marriages. Those were the days of my schooling. Those were the days we spent listening to his scintillating rendition. When I was working in Seshasayee Paper Mills in Erode, more often Sirkazhi's concerts were arranged through one Mr. Jawanthinathan at the Paper Mill Colony temple. I got the opportunity to mingle with him closely during that period.
He would keep uttering the name of Lord Muruga in between his talk. He was born on 19-1-1933 to the couple Sivachidambaram – Avayaambaal in Sirkazhi in Thanjavur District. He added the name of his native town as a prefix to his name. He evinced keen interest in music from his tender age. He took rigorous training and received the 'Isaimani' award from Chennai Tamil Isai Sangam when he was barely 16 years old! The next year saw him receiving the title 'Sangita vidwan' from the Carnatic Music College. He was interested in theatre too. He had donned different roles in the plays staged by various drama troupes.
'Cinema ulagam', a film magazine, the first of its kind was being published by Packirisamy Chettiar. He got Sirkazhi the opportunity to sing in the films produced by Salem Modern Theatres and subsequently in many films produced in Chennai. Sirkazhi used to address him as 'chittappa' due to his love and respect for him. Even today, Sirkazhi's family members remember him with reverence and respect. 'Pon vayal', produced by actor T. R. Ramachandran and released in 1954 was Sirkazhi's first movie as a playback singer. The song started with the words 'sirippuththaan varukuthayyaa …' But actually, 'Avvaiyaar', produced by Gemini Studios was his first film in which he had sung 'Aathichoodi'. As his name was not included in the title, 'Pon vayal' came to be known as his debut film. He donned the role of Nandanar in the film 'Nataraja darisanam' in the year 1963. But the film was shelved halfway. 'Kandan karunai', in which he did 'Nakeerar', was his first film, released in the year 1967. Films including 'Vaa raja, vaa', 'Thirumalai thenkumari', 'Agathiyar', 'Deiyvam', 'Raja raja chozhan', 'Thiruvarul', 'Dasavatharam', 'Deiva thirumanangal', 'Thai Mookambikai', 'Nambinaar ketuvathillai', 'Meenakshi thiruvilaiyaadal' etc. followed in a row. And, within years, he was going full throttle on the highway to movie fame as both a playback singer and an artiste, especially of films with the genre of mythology.