Thiraichuvai
By Majordasan
Potpourri of titbits about Tamil cinema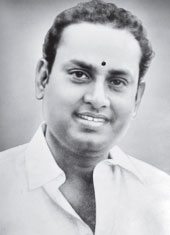 Since, I knew my husband T.R.Ramanna from the days of his working as sound engineer with Director K.R. Subramaniyam, I have encouraged him to enter direction field by reminding him about his capabilities. Boldly we started three cinema production companies known as R.R.Pictures, Vinayaga Pictures and Ganesh Pictures. Out of a number of films directed by my husband T.R.Ramanna I liked vazhappiranthaval, Periya idaththu Pen, PanakkarakKudumbam, Kulebagavali, Pasam, Kathavarayan, JKoondukkili, thangachchurangam, Naan, Moondrezuthu, Puthumaipithan,Sorgam, Parakkum Pavai, Nadodi and Ennaipol oruvan most. He was always innovative and want to make some novel attempts all the time.
Even today I am proud of making my husband a director.
I still remember, for the film Periya Edathu Pen, my husband insisted on MGR to wear Pant and Shirt for a western dance. MGRwas very much reluctant and worried about how such a dancing will be liked by his fans. Finally MGR yielded to my husband's persistence and danced. The dance became a super-duper hit and then on every producer wanted to have such a dance in their film. MGR who refused such an attempt in the beginning complimented my husband for starting a trend.
I was managing the income and expenditure account for our production companies. I always used to make sure of making prompt and timely payment for all those who worked for us. For several times I have surprised the famous actors like MGR, Shivaji, Jayalalitha, Saroja Devi and Ravichandran who have acted in the films of our production companies by visiting their house and paying the money well in advance.
Horticulture was my best hobby. I was growing fruits and vegetables at our 18 acre land at Tambaram. Latter, when we shifted our residence to Adyar and to T.Nagar I was growing fruits and vegetables at home. I have won prizes for my participation in flower show during 1957. I am sharing all these hobby information only to make you understand how I was active despite my busy schedule.