Potpourri of tidbits about Tamil cinema - V. C. Guhanathan
V. C. Guhanathan, creator of a new horizon …!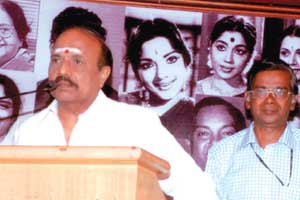 The little boy watched the MGR starrer 'Malaikkallan' for more than ten times without the knowledge of his parents. He became a blind fan of MGR. He developed even a sort of devotion for the matinee idol. The little boy was none other than Guhanathan, who has carved a niche for himself in the film industry today commanding great respect from everyone as a director and a good human.
Guhanathan belongs to Pungudutheevu, situated in between India and Sri Lanka. His father Chelliah worked as a teacher in Jaffna. His mother Rajeswari was a housewife. Guhanathan has five younger brothers and one sister. He lived in Jaffna till he was eleven but shifted to India attracted by MGR! He did his schooling in Kancheepuram and did his graduation course in Pachaiyappa's College. He developed a craving for acting in the meantime. But 'Arignar' Anna advised him to try scriptwriting rather than acting. MGR, who presided over a function at Pachaiyappa's College, was very much impressed by Guhanathan's speech. He called for Guhanathan and asked him to narrate a story suitable for filming. Impressed with his narration, MGR recommended him to work as director Chanakya's assistant. 'Pudhiya bhoomi' was the first film for which he wrote the script in the year 1968 for Jeyaar Movies. The opportunity came through MGR. Guhanathan was still a student of Pachaiyappa's College and was only 18 years at that time.
He wrote the script for many stage plays and acted as the hero in those plays. Impressed with his dialogues, the then popular playwright A. Balasubramanyam employed Guhanathan as his assistant. The stage play 'Moonrezhutthil en moochirukkum' was made into the film 'Mugarasi' in which MGR and Jayalalitha did the lead roles.
Guhanathan has directed films of all leading heroes including MGR, Sivaji, Gemini, Jaishankar, Ravichandran, Kamalhasan, Rajini, Vijayakumar and others. As a director, he has got more than 50 films to his credit and as a scriptwriter he has more than 250 films to his credit. And, as a producer, he had produced around 50 films. And, he had written the script for movies in other languages also that include Kannada, Hindi and Telugu. He has written the script for 35 films for AVM alone. It was Guhanathan who made S. P. Muthuraman a director through the film 'Kanimuthu pappa'.
He introduced Jaya, a student of S. I. E. T. College to cinema and took her as his life-partner too. Some of the unforgettable movies with Guhanathan as scriptwriter include 'Pudhiya bhoomi', 'Mugarasi', 'Kumarikkottam', 'Uyarntha manithan', 'Thangaikkaga', 'Enga mama', 'Rajapart Rangadurai', 'Pettha manam pitthu', 'Kasi yatthirai', 'Paer sollum pillai', etc. The unforgettable movies in his direction include 'Mangudi minor', 'Madhura geetham', 'Michael Raj', 'Thanikkaattu Raja', etc.
Guhanathan is not only a very talented and creative person but he is also a good human being. He helps the technicians in the field in as many ways as possible with the welfare of their families alone in his mind, not expecting anything in return. I salute this great man and am proud to think that I am one among his longtime friends, right from the beginning of his career till date.
KM Matrimony Best Services –