Potpourri of titbits about cinema - S. V. Subbiah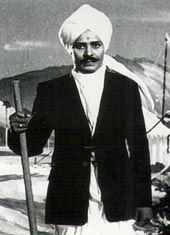 Subbiah, the farmer …
S. V. Subbiah was throughout a distinguished character artiste in Tamil cinema. Shifting from theatre to cinema, since the year 1952, Subbiah used to leave his special stamp with his excellent acting in all his films. He donned the role of Bharatiyar in the film "Kappalottiya Tamizhan" in which Sivaji Ganesan did the role of Va. Vu. Chidambaram Pillai. And, his style as Bharatiyar was followed by all the artistes, right from Sivaji Ganesan to Kamalhasan in the role of Bharatiyar in future films. The artistes' words to this effect are a special respect Subbiah earned for his acting talent.
Subbiah had the guts to tell MGR and Sivaji to delete unwanted dialogues and scenes during his shooting with them for movies. And, both the great heroes would listen to him and follow his advice and do the needful. And, this positive response and attitude of the co-stars proved useful to the healthy growth of the Tamil cinema of those days. Subbiah used to believe and propagate that agriculture was the main contributor to the growth of a nation. He established a farm at Karanodai and on those days when he had no shooting, he used to plough his land and work like a farmer even in the last days of his life.
Subbiah's hit films include "Baga pirivinai", "Annaiyin aanai", 'Irumbhuthirai", 'Panathottam", "Thaali bhagyam", "Mangaiyar thilakam", "Kann kannda deivam", "Aadhi parasakthi", "Sollathaan ninaikiren" and "Arangetram". He started his own production company Ambal Productions and made Jayakanthan's novel 'Kai vilangu" into a movie under the title 'Kaaval deivam". The lead included Sivakumar, Lakshmi, Nagesh and O. A. K. Devar. K. Vijayan directed the movie. Initially, Subbiah was to do the character Chamundi, but, as he strongly believed that Sivaji could do more justice to the role, he requested Sivaji to do the role as a guest artiste. And, Sivaji, due to his true friendship with Subbiah, took two days off from his tight schedule for AVM's "Uyarntha manithan' with the kind permission of A. V. M. Saravanan and worked for Subbiah's film.
Subbiah was a staunch believer in God. He would avoid working on the days of full moon and new moon, Krithikai and 'sashti'. He would fast on these days and visit temples. He used to carry porridge from his house to the shooting spot and would avoid coffee and tea. And, he wouldn't work beyond 9 p.m. He was more proud to call himself a farmer than an artiste.