Potpourri of tidbits about Tamil cinema - Chandrababu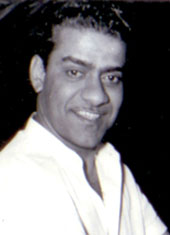 Chandrababu, India's Charlie Chaplin
J. P. Chandrababu, who reigned over the Tamil celluloid world as a comedian in the Fifties and Sixties was born on 5-8-1927 to the couple J. P. Rodriguez – Roslyn at Tuticorin. He had four brothers and five sisters. His father, a freedom fighter was running a printing press in Sri Lanka. Chandrababu studied in an English school in Colombo. He was crazy about acting and came to Madras to try his luck. He had shared with the media his painful and bitter experiences that he faced during the period of his efforts to enter cinema.
Chandrababu's given name was Joseph Pichai Panimayadas. He was endearingly called Babu or Panimayadas by his family members. Since he belonged to the Chandrakulam community he changed his name to Chandrababu for cinema. He married Sheela on 29-5-1958, the wedding, attended by so many artistes took place in Madurai. Chandrababu was very happy and felt honored when Kamaraj attended the function and blessed him. But, the marriage was short-lived and his wife left him after a few weeks and divorced him. She married a doctor in London and settled down there. This misfortune led to Chandrababu becoming a heavy drunkard.
Chandrababu became a producer and commenced the production of the film 'Maadi veetu eazhai' with MGR as the hero. Due to the friction that developed between him and MGR, the film was shelved after a few months of shooting. Chandra Babu had acted in more than 150 films. Some of his films remain fresh in our memory even today. ''Kalyanam panniyum brahmachari', 'Gulepakavali', 'Pudhaiyal', 'Maaman magal', 'Kathavarayan', 'Sabhash Meena', 'Sahodhari', 'Kavalai illaatha manithan', 'Poleeskaran magal', 'Thattungal thirakkappadum', 'Vaalibha virunthu', 'Adimai penn', 'Paathukaappu', 'Parakkum paavai', 'Neethi', 'Raja', etc. stand testimony to his unique style. His songs are still alive and have a magical appeal even to the present generation youngsters.
Chandrababu's brand comedy and his slick and graceful trademark dance won him the honor of being called India's Charlie Chaplin. But, it was really unfortunate that this master entertainer, a glorious performer par excellence turned an alcoholic and spoilt his health by continuing to consume alcohol even after recovering from jaundice. And, this inimitable and legendary actor left a mighty huge void by his death on 8-3-1974. Even today, it pains us to think that Chandrababu should die at a very early age of 46 years because of his neglect of health.
KM Matrimony Best Services –