Potpourri of titbits about cinema - Mukta Srinivasan
Q: After 'Mudhalaali'?
A: 'Naalu veli nilam', 'Thaamarai kulam', 'Poojaikku vantha malar', 'Idhayaththil nee', 'Odi vilaiyaadu paappaa', 'Magane kel', 'Thenmazhai', 'Bommalaattam', 'Aayiram poi' etc. were some of the films directed by me in the subsequent years. I launched 'Mukta films' in the year 1961 and produced and directed 'Panithirai'. I produced nine films with Sivaji in the lead role – 'Niraikudam', 'Arunodhayam', 'Thavaputhalvan', 'Anbaithedi', 'Andaman kaadhali', 'Imayam', 'Kizh vaanam sivakkum', 'Pareetchaikku neramaachu' and 'Iru methaigal'. I've directed more than 65 films that include 'Simla special', 'Pollaathavan', 'Sivappu suriyan', 'Cinema paithiyam', 'Kodai mazhai', 'Kathaanaayagan' and 'Vaikozhuppu'.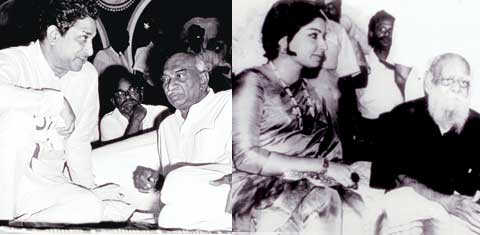 Q: How did you get 'Thanthai' Periyaar and Kamaraj to attend the functions for the 100th day of the film 'Suriyakanthi' and 'Cinema special' when both hated cinema?!
A: I expressed my wish to K. Veeramani of Dravidar kazhagam that Periyaar should give away the awards to the artistes of 'Suriyakanthi' film. He took me to Periyaar who patiently listened to the story of the film. He liked the story very much and attended the function. The artistes who received the awards were really excited over receiving them from the hands of Periyaar. Likewise, I narrated the story of 'Cinema paithiyam' to Kamaraj. He watched the film at the film chamber. He appreciated Kamal Hasan's performance and enquired him about his family. Kamaraj was happy to say that he used to eat at Kamal's house whenever he went to Paramakudi. My nephew's name is Mukta. We started our production company in his name. Nagi Reddy told me that as there were many Srinivasans in the film industry, he would refer to me as 'Mukta' Srinivasan and it became my prefix permanently.
'Mukta' Srinivasan has not stopped writing short stories to magazines till today. He has written many books on film-making and other aspects of the industry. His wife Prema, sons Ravi and 'Mukta' Sundar are very supportive to him in his career. Sundar is a cinematographer today. Srinivasan has opened a big library at the entrance of his house. He is keeping a collection of more than 5,000 books that had been read and enjoyed by him apart from those written by himself. He invites all those interested to come to his library. He'll get whatever book we need from outside sources if it is not included in his collection. A number of people are benefited by visiting his library. Let us all pray to God that he should live for long and help millions by his yeoman service. Recently, he celebrated his 81st birthday for which chief minister Kalaignar was the chief guest.