Potpourri of titbits about cinema - Vijayakumari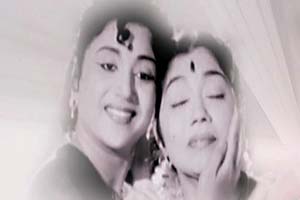 A son was born to the couple. The child was named Ravikumar. After the birth of the child, SSR took Vijayakumari to his house at Teynampet where he was living with his first wife Pankajam. There were three houses inside the compound – Pankajam and her children lived in one house, SSR's sister and her husband T. V. Narayanaswamy lived in the second house and Vijayakumari was provided the third house. Vijayakumari's career was a promised success story that included run-away hits like 'Kumudam', 'Saradha', 'Kumgumam', 'Santhi', 'Aanandhi', 'Avan Pithan', 'Alli', 'Thedi vantha thirumagal', 'Pachai vilakku', 'Naanum oru penn', 'Paar magale paar', 'Kaakkum karangal', 'Poleeskaaran magal', 'Kodimalar', 'Aalayamani' etc. She worked in films continuously without rest.
Vijayakumari participated in the 13th 'Naadaka vizhaa' organized by the Seshasayee Paper Mills at its colony on 27th August 1985. Best plays and best artistes were given awards. In the afternoon the women's association of the mills had an interactive interview with Vijayakumari. I received the 'Best actor' award for my role in Sujatha's 'Adimaigal' staged by me. Vijayakumari was very happy to present the award to me and I felt extremely happy to receive the same from an artiste who had earned a permanent place in the hearts of the people through her excellent acting. She told me to inform her whenever I staged a play in Chennai so that she could watch it.
Some interesting excerpts from my long-standing association with her:
Q: Please tell me about how you felt doing the role of Kannagi in the film 'Poompukaar' …
A: Jupiter Pictures had produced a film 'Kannagi' in the year 1942. Kannampa did the role of Kannagi while P. U. Chinnappa did the role of Kovalan. 'Kalaignar' produced the re-make on behalf of Mekala Pictures. Before attending the shooting, I met Kannampa and took her blessings. My grandmother had told me that Kannagi was an incarnation of Amman. So, I observed fasting during the shooting days of the film. O. A. K. Devar was the Pandiya king and G. Sakuntala was his wife. When I entered the Golden Studios with the dialogues, 'Kalaignar', P. Neelakantan and Maran were there. And, I forgot the dialogues because I was scared on seeing them all together. But they encouraged me a lot and rehearsal was done once. I grew emotional when I did the scene in which I argued with the Pandiya king and blood started oozing out from my throat as I was shouting at the pitch of my voice. Literally, it was a film in which I acted with my blood oozing! The movie was a run-away hit and became a milestone in my career.