Potpourri of tidbits about Tamil cinema - Director R. C. Sakthi
V. C. Guhanathan, creator of a new horizon …!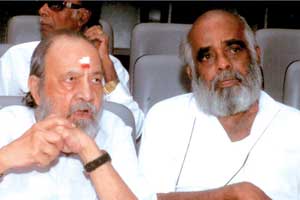 Q: There was much opposition to your film 'Sirai' …
A: After our maiden film 'Unarchigal', I got the opportunity to direct many films. The list includes 'Manitharil itthanai nirangalaa', 'Maampazhatthu vanndu', 'Dharmayuddham', 'Unnmaigal', 'Raajaangam', 'Sparisam', 'Thanga koppai', etc. When Aanandhi Films approached me for a movie, I recommended Anuradha Ramanan's prize-winning story 'Sirai'. Initially they hesitated, but eventually they agreed. When the film was screened for distributors, some of my director friends and distributors suggested that the climax be changed. But I stood firm and released it. The film was well received, but at the same time, much criticism and opposition arose from all quarters. We faced and tackled all the challenges. People accepted the story and gave full support. The film ran for hundred days. The opposition died down.
Kamal did a guest role in my film 'Mana kanakku' in which Vijay Kant did the role of a cinematographer. I had met with so much disappointment in my career and many whom I trusted fully had cheated me. I directed the movie 'Patthini penn', the story of which was written by Thilakavathy I. P. S. The novel was titled 'Oru vazhi paathai'. When the movie ended, Thilakavathy who watched the premier show left the place without telling me anything. I was totally confused. I wondered whether she was not happy with my direction. But she sprang a surprise when she telephoned to me from her house. She said that she became so emotional and was crying while watching the movie. She said that she avoided talking to me since she was afraid that she would cry a lot if she talked to me. She further said that it wouldn't be befitting an IPS officer to cry like that in the presence of many people. And, she congratulated me telling that the movie had come out very well, even much better than what she expected.
When I met director Sridhar, he was not well. He asked me to do a movie that would equal my first film 'Unarchigal' in quality. Tears welled up in my eyes when I thought that he was remembering my first movie even after so many years. Writer Maharishi's novel 'Bhuvana oru kaelvikkuri' impressed me a lot. I suggested to Jupiter Films that the novel was a good story for filming. They read it and immediately agreed to produce it. I wanted Kamal to be the hero but he didn't like the story. So, the producer asked me to select some other story. Maharishi gave the story to some other producer who produced it with Rajini in the lead role. The film was a run-away hit. I felt a lot for Kamal. If only he had agreed to do the role … Kamal also felt that his assessment went wrong.
There had been many unforgettable incidents and situations in Sakthi's career. He would fight for justice, righteousness and rights. He had been in responsible positions in various organizations and he had faced much opposition due to his strong belief in righteousness. He had undergone moments of high tension too. I used to take liberty and advice him not to bother about right and wrong and keep himself at a distance from controversy.
He would talk very high of his wife Senchulakshmi and of her patience and efficient management of the household. His two daughters and son are all married. His son Selvakumar is a cinematographer and is also directing advertisement films.
KM Matrimony Best Services –