'Soolamangalam' Sisters
MGR was a connoisseur of music …!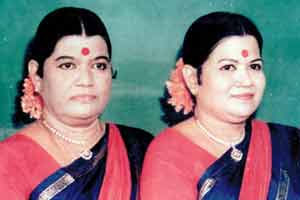 'Soolamangalam' Sisters, Jayalakshmi – Rajalakshmi, the veterans in the field of music have made names for themselves in the Carnatic firmament. Their devotional songs are more popular compared to those of others, especially the song 'Shashtiyai nokka Sarvanabhavanaar …' of 'Kanda shashti kavasam', the song having created a record in the sale at the global level in devotional song audiotapes. It is very unfortunate that when Rajalakshmi, the younger of the two died at her 54th year in 1992, her sister Jayalakshmi gave up singing. Presently, she is living with Rajalakshmi's son Murali and daughter-in-law Vasanthi (daughter of A. L. Narayanan, scriptwriter) at Besant Nagar in Chennai.
My association with the sisters goes back a long way. I had the opportunity to mingle with them even from their very early days. I had shared my disappointment with Jayalakshmi over her retirement from the music field after the demise of her sister Rajalakshmi. I had even insisted that she should revive her career and continue till her health permitted. I had interviewed the sisters on many occasions on behalf of various magazines.
Select excerpts from their interviews:
Q: About your background and entry into the field …
A: : (Jayalakshmi) Solamangalam near Ayyampettai of Thanjavur district is our native place. Our father was Ramaswamy Iyer while Janaki was our mother. We are three daughters and one son, I am the eldest. Another sister's name is Saraswathi and brother is Sethuraman. All the four of us had voracious appetite for Carnatic music even from our early ages. It was enough that she listened to a song just once, Rajalakshmi could repeat the song effortlessly with precision! Gurumurthy was our music teacher who gave us formal training in Carnatic music. But when our father died all of a sudden, we were left without any support. Our uncle Swaminathan brought us all to Madras and arranged for our music tuition. We were put under the tutelage of 'Patthamadai' Krishnan, the grandson of Bharathiyar and we blossomed under his strict tutoring.
To maintain ourselves and our family we strove to get chances to sing at 'sabhas' and temples. I got an opportunity to sing on All India Radio. We decided at that time that whoever got a chance, she should utilize it either alone or together. We struggled a lot and at long last we got a chance to perform at an exhibition. Rajalakshmi and I together gave the performance. Thyagaraja Bhagavadhar and N. S. Krishnan who happened to watch the program were very much impressed with our rendition. Subsequently, Bhagavadhar and P. U. Chinnappa sent word to us and asked us to sing a few 'kirthanas'. And, they also joined us in our singing. Impressed with our performance, they got us chances to sing for many movies and we received critical acclaim.
KM Matrimony Best Services –