Potpourri of titbits about Tamil cinema - Actor Asokan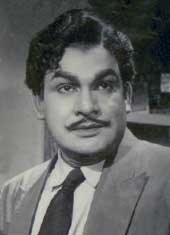 Jaishankar, the James Bond of South India and actor Asokan were together conducting cultural programs with film artistes in different towns in Tamil Nadu. I helped Jaishankar at the programs held in Salem and Erode districts. I got the opportunity to meet and get introduced to Asokan by Jaishankar at the Salem National Lodge. I was a staunch fan of Asokan for his villainous comedy acting. At our first meeting itself, I recalled many of his roles that I enjoyed much. Asokan was very much impressed and appreciated my taste for the art. I got the opportunity to talk to him for hours at the lodge and at the guesthouse of the Seshasayee Mills in Erode. I learned many details about him during these talks.
Excerpts from Asokan's talk: "I used to be very active even from my early days. I used to act in stage dramas, participate in oratorical and writing competitions etc. I did my graduation at Joseph College in Tiruchy, my native place. I entered film with the help of Balajee and Gemini Ganesh, who were my friends. I had done a minor role in Avvaiyar. My given name is Antony. Director T. R. Ramanna changed my name into Asokan when I worked in his film Manappandhal. The named brought me success.
I did the hero character in some films including Idhu sathyam, Deivathirumagal, Kaatturani, Karthikaideepam, Vallavanukku vallavan etc. But, after these films, more offers came my way for villain roles only. I mixed comedy with villainy in some films. I had co-starred with MGR in more than 80 films. His encouragement took me to great heights and he was responsible to a great extent for my place in cinema today. Sivaji Ganesan also used to admire my acting. He used to review my performance in all my films. When I was producing the film 'Netru, indru, naalai' with MGR, some people poisoned his mind and the production was stalled. But when I made him understand the truth, he was very much moved. He finished his work without any problem. Even today, I am getting income from that film.
From my early days in cinema, I've been very close to MGR, A. V. M. Saravanan, Jaishankar and director A. C. Thirulokchander and their families. I used to consult them on all important matters. Our friendship was that close and genuine. I was in love with a Brahmin woman, Saraswathi who was in Coimbatore. I wanted to marry her but there was strong opposition in her family. I took Saraswathi with me and married her in a church at Nungambakkam with the help of MGR, Thirulokchander, Saravanan and his brothers. We closed the doors of the church during the ceremony. We changed Saraswathi's name to Marygnanam. At that time, Jaishankar was not in station, he was in the middle of an outdoor shooting. When he returned to Madras, he gave a dinner to us at his house for our marriage."
After these meetings, I couldn't meet Asokan. In the film 'Iravum pagalum', Asokan sang a song in his own voice – 'irandhavanai sumandhavanum iranthittaan …'. He died on 19-11-1982 due to his second heart attack at an early age of 52 years. Three years after his death, his wife also died. Amalraj, one of his two sons also had died recently. Vincent, the other son, who is an engineering graduate is doing both villain and character roles. He is a very warm and polite person like his father.