Kalyanamaalai Facilitated my Life-partner Search and Happy Marriage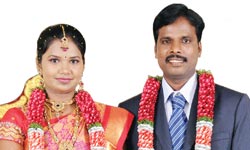 When Kalyanamalai reached Selvan Balamurugan to convey marriage its wishes he said 'marriages are decided in heaven but in reality Kalyanamalai Mohan facilitates such marriages to take place'. He thanked Kalyanamalai heartely.
Selvan Balamuran (625352) is the son of Theivaththiru Rathinam and Thirumathi Maniyammai. He passed his M.E. (Automobiles) degree and was working as Assistant Manager in Renault Nissan. In search of a suitable life partner he has registered his profile in Kalyanamalai.
Similarly the profile Selvi Sathiya Priya (605782) daughter of Thiru Balusamy and Theivaththiru Jaya was registered by her father during the Kalyanamalai organised Thirumana Thiruvizha held at Rajapalayam. Selvi Sathiyapriya has completed her MBA (Financial) and working in a private company.
Both Balamurugan and Sathiyapriya liked each other and the marriage was fixed with the concurrence of both the families. The grandly celebrated marriage took place on 28th July 2013 before the holy Sannidhi of Andal at the Thiruvalliputhur temple.
Kalyanamalai heartily wishes the newly wed couple Balamurugan and Sathiyapriya who got married in the holy shrine to receive the blessings of Andal to get the best of everything in their married life.
More Success Stories
KM Matrimony Best Services –