Marriages are Made in Heaven and Fixed by Kalyanamalai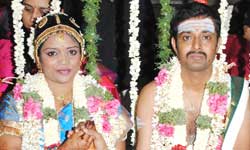 'Marriages are made in heaven is an old saying, but it will not an exaggerated statement if I say that it is Kalyanamalai, which decided and helped the marriage of our house' said the couple Thiru Rajan Narayanan and His wife Thirumathi Uma Maheswari Rajan.
Rajan Narayanan said 'in search of a proper bride for our son Niranjan (539974) we registered in Kalyanamalai during November 2011. My son has completed M.Sc. (Computer Science) and works in the Cognizant Technology BPO.' He added 'our expectations did not go in vain. Thiru Viswanathan and his wife Thirumathi Bhooma Viswanathan called us from Pune in January 2012. They were in the lookout of a proper groom for their daughter Iswarya (537076) who has completed her B.A. (Tourism Management) and working as a Front Office Executive at Pune.
Rajan Narayanan further said 'we could happily conclude our interactions, saw the girl for the first time on 2nd February, conducted betrothal on 17th February and celebrated the marriage in a grand manner on 5th July 2012'. He added 'our heartfelt thanks to Kalyanamalai Mohan for making this happy conducting of the marriage possible'.
Kalyanamalai wishes the couple Niranjan (539974) and Ishwarya (537076) all the very best for a happy and successful marriage.
KM Matrimony Best Services –