We are indebted to Kalyanamalai for making the marriages possible in our family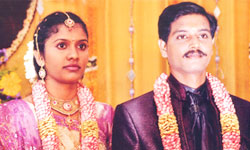 Thiru Yuvaraj was very happy when Kalyanamalai called him to convey its greetings on the marriage of his son Selvan Sathish (607767). Yuvaraj immediately said we are indebted to Kalyanamalai because my sister-in-laws marriage also was concluded through Kalyanamalai.
Thiru Yuvaraj and Thirumathi Kumatha participated in the varan arimugam program conducted by Kalyanamalai Mohan at Kamaraj Aragam with their son Sathish. Selvan Sathish has completed his B.Com., and MBA and is working as Assistant Manager in a private firm. When the program was telecast on SUN TV a number of parents contacted Thiru Yuvaraj for the alliance.
Thiru Kasinathan and Thirumathi Padmini who were in the lookout of a suitable groom for their daughter Selvi Ilakkiya Bharathi (630610) also saw the program and contacted the parents of Selvan Sathish. Selvi Ilakkiya Bharathi has completed her B.Com., degree and pursuing her CA.
Both selvan Sathish and Selvi Ilakkiya Bharathi liked each other and both the families agreed to celebrate the marriage after concluding the betrothal. The marriage was celebrated on 26th June at Padmasri Seshamahal in Kolathur in a very grand manner.
Kalyanamalai wishes the newly wed couple Sathish and Ilakkiya Bharathi to get the best of everything and lead very happy married life.
More Success Stories
KM Matrimony Best Services –