Thank you Kalyanamalai for getting me life partner who is close to my heart.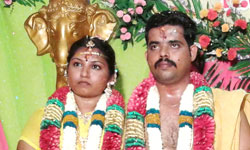 Selvan Senthil Murugan (612018) was in all jubilant mood when Kalyamalai contacted him to convey the marriage greetings. He thanked Kalyanamalai for facilitating his marriage with Selvi Durga Devi (594217).
Selvan Senthil Murugan is son Thaivaththiru Kottaisami and Thirumathi Rajalakshmi. He has completed his B.Com Degree and Diploma in Computer Applications and was working in a reputed bank. He has registered in Kalyanamalai with the sole intention to find a suitable life partner. He came across the profile of Selvi Durga Devi, and liked the photo and profile details.
Similarly Thiru Sundharam and Thirumathi Muthulakshmi had registered the profile of their daughter Selvi Durgadevi and were in search of a suitable life partner. Durgadevi was working as a teacher in a school at Madurai after completing her M.Sc., and B.Ed. Her parents also liked the profile of Selvan Senthi Murugan. Both Senthil and Durga liked each other and both the families were ready to conduct the marriage after the betrothal.
The marriage was celebrated in a grand manner on 11/09/2013 at Annai Velankanni Thirumana Mandapam in Arasaradi, Madurai. A good number of relatives and friends participated in the marriage and blessed the couple.
Kalyanamalai conveys its hearty wishes to the newly married couple Senthil Murugan and Durgadevi and further wish them to receive the best blessings of the almighty and lead a very happy married life.
More Success Stories
KM Matrimony Best Services –