Our Faith in Kalyanamalai Proved We are Right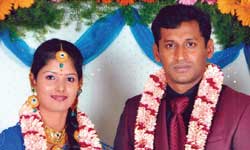 Thiru Chandrasekar and Thirumathi Gayathri live in Puduchery. When they wanted to fix the marriage for their first daughter Selvi Swapana (639223), the first name that struck their mind was Kalyanamalai. They registered her profile during May 2013 at our Puduchery branch office . Selvi Swapana was working in CRRI, Puduchery after passing her MBBS degree.
Similarly, Dr. Sridharan and Dr.Sangamithrai registered the profile of their son Selvan Pradeep Kumar (624794) in Kalyanamalai to find a suitable life partner for him. Selvan Pradeep Kumar after completing his ME degree was working ias a Hardware Engineer n Australia .
Both Selvi Swapna and Selvan Pradeep Kumar liked the profile of the other and both the families were interested to arrange the marriage. The marriage was celebrated in a grand manner on 12/02/2014 at Sri Ram Thirumana Mandapam, Puduchery, with the participation and blessings of the parents, relatives and friends.
The parents of Selvi Swapna, Thiru Chandrasekar and Thirumathi Gayathri had sent a thanking letter to Kalyanamalai appreciating its good services. They wanted more families to use the services of Kalyanamalai to arrange the marriage of their daughter or son quickly.
Kalyanamalai conveyes its heartfelt thanks to the parents and wish the newly weds Swapna and Pradeep Kumar a very happy married life.
More Success Stories
KM Matrimony Best Services –