A Marriage fixed by Kalyanamalai and Conducted beautifully by Athithi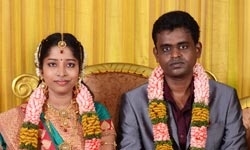 The marriage of Sow Saranya (508998) B.Com, ICWA, with Chiranjeevi Dharanitharan (610090) B.E. M.B.A., was conducted in a grand manner On Sunday the 12th May 2013 at Sangeetha Kalyanamandapam, Porur. This marriage was enabled by Kalyanamalai and performed beautifully by Athithi a wedding planner unit of Kalyanamalai.
Thiru Devarajan, father of the bride Sow. Saranya was working as an assistant to Thiru Kalyanamalai Mohan and Thirumathi Meera Nagarajan even before the start of Kalyanamalai program. Later, he joined Kalyanamalai and grew with it. When Thiru Devarajan and his wife Thirumathi Amutha decided to perform the marriage of their daughter, the first thing they did was to register in Kalyanamalai.
Though Saranya has received a number of proposals befitting her educational qualifications and pleasant looks, Thiru Mohan and Thirumathi Meera Nagarajan filtered them all and chose the profile of Chi.Dharani Dharan, son of Thiru T.D.Padmanabhan and Thirumathi Malarvizhi. Chi. Dharani Dharan a B.E., MBA degree holder was working in a reputed company at Singapore. Both the families and the bride and groom liked each other and the betrothal was performed in a grand manner on 22nd February 2013 and the marriage date was fixed.
A grand reception was held on 11.05.2013 a day before the marriage. The important people participated in the reception include Thiru Mohan, Thirumathi Meera Nagarajan, Thiru Vijaya Bhaskar, Thiru Anand, famous pattimandram speaker Thiru Raja and Pulavar Ramalingam. Also, the staffs of Kalyanamalai have participated in large numbers.
During the course of his talk Thiru Mohan blessed the couple and recalled how Thiru Devarajan joined in Kalyanamalai and grew with it. Thirumathi Meera Nagarajan explained how the faith of Devarajan's family in Kalyanamalai helped them in finding a suitable groom for their daughter.
Pulavar Ramalingam, who spoke next, cited examples from old Sangam literature and blessed the couple to lead a long and happy married life. Pattimandram Raja laced his talk with his exclusive brand of humour and blessed the couple. For the muhurtham performed on the early morning of Sunday (12.05.2013) Thiru Kalyanamalai Mohan, Thiru Pyramid Natarajan, Thirumathi Meera Nagarajan, Thiru Vijaya Bhaskar and Thiru Anand came with their family and graced the occasion. The marriage, which was performed without deviating from the established tradition was liked and appreciated by everyone, participated in the marriage.
Athithi the wedding planner unit of Kalyanamalai took the responsibility and made exceptional arrangements for the marriage. The food offered during the evening tiffin, night dinner, morning tiffin and marriage day lunch, was relished and liked by everyone and received whole hearted appreciation from them. Kalyanamalai takes this occasion to convey its wishes for a happy and successful married life to Thirumathi Saranya and Thiru Dharanitharn.
More Success Stories
KM Matrimony Best Services –