Thank You Kalyanamalai – I could find my life partner within 10 days of registeration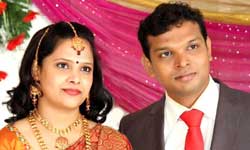 When Selvan Gokul Sundar reached Kalyanamalai to inform about the fixing of his marriage, his voice sounded exuberant and happy. He was able to get a suitable life partner within 10 days of his registration in Kalyanamalai. He said that he was not able to believe that his four year search in various matrimonial websites has ended within 10 days of registering in Kalyanamalai.
Selvan Gokul Sundary (539188), son of Thiru Muthukumar and Thirumathi Sasikala, has completed his MBA and was working as a Marketing Professional in a reputed company. He had registered in various matrimonial websites in search of his life partner and was searching for over four years.
Finally, his decision to register in Kalyanamalai yielded him positive results within 10 days. He came across the profile of Selvi Nithya (551889) and liked it. Selvi Nithya, daughter of Thiru Balakrishnan and Thirumathi Saraswathi, was working as a quality controller after completing her B.Sc. Degree. Both the families met, exchanged pleasantries and decided on the marriage date.
The marriage was celebrated in a fitting manner, on 23rd May, at Madha Amirthananthamayi Marriage hall, Virugambakkam, Chennai. Kalyanamalai takes this occasion to wish Gokul Sundar and Nithya a very happy and successful married life.
More Success Stories
KM Matrimony Best Services –