Kalyanamalai got My Daughter Most Suitable Husband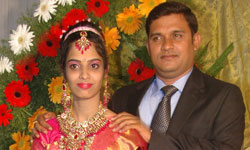 Thirumathi Varalakshmi contacted Kalyanamalai from Bangalore and thanked Kalyanamalai Mohan for helping her daughter Selvi Deepalakshmi to get a good match and get married. She praised the work of Kalyanamalai Mohan and prayed that his ardent work should benefit thousands of girls waiting for their marriage.
Selvi Deepalakshmi (608752), the daughter of Thiru Jeyavelu and Thirumathi Varalakshmi was a B.Sc. Graduate and working as Professional Administrator in a private company. The family liked the profile details of Selvan Jaikumar (463786), son of Thiru Narayanan and Thirumathi Rani. Jaikumar a computer diploma holder was working as a Senior sales Executive in a private enterprise.
Both the bride and the groom liked each other and the betrothal was performed with the blessings of elders from both the sides. The marriage was celebrated in an elaborate manner at Bengaluru on 12th June 2013.
Kalyanamalai wishes the newly weds Jaikumar and Deepalakshmi a very happy and successful married life.
More Success Stories
KM Matrimony Best Services –