Kalyanamalai – a boon to parents looking for 'varans' …!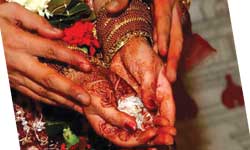 Kalyanamalai is great in that it translates the dream of all those waiting for marriage into reality through its excellent service. K. Sundar, the groom shared his unforgettable experience with Kalyanamalai during his brief period of interaction with it.
Sundar is an M. A., a government servant, attached to the department of auditing. His father's name is Kandasamy and mother's is Jegajothy. He has two brothers and two sisters, all are married.
"When my parents started searching for an alliance for me we learned about the yeoman service of Kalyanamalai. And, we registered with its Erode branch immediately. My portfolio was published in the magazine and was posted on its website also. On going through my portfolio Lavanya's family contacted us telling that my background matched their requirements perfectly. Lavanya has completed M. Sc., M. Phil. She is in the software field. Her father Sundarrajan was an IRS officer and is retired now. Her mother Vasuki was a teacher, she is also retired. She has only a brother, he is married. The marriage was finalized as the expectations of both the parties were found fulfilled and matching. Kalyanamalai deserves full credit for uniting the two families through the sacred bond of wedding. The wedding was celebrated on 5th December 2011 at the famous Perumal temple at Bhavani 'kuduthurai'. I thank Kalyanamalai a million times for giving me a happy marriage and a peaceful life.
Kalyanamalai is really a boon to all those waiting for marriage. I wish all should benefit by registering with it," Sundar concluded in a voice marked by genuine joy and gratitude.
Kalyanamalai wishes the couple Sundar – Lavanya a long and happy marriage!
KM Matrimony Best Services –