Kalyanamalai Helped Us to Get Excellent Daughter-in-law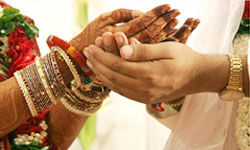 When Kalyanamalai tried to reach Selvan Muthukumaran (638705) to convey its marriage wishes, his mother Thirumathi Lakshmi picked up the phone. She thanked Kalyanamalai and said Kalyanamalai helped us to get a good wife for my son and excellent daughter-in-law for us.
After trying a number of matrimonial agencies Thiru Jayaprakash and Thirumathi Lakshmi had registered the profile of their son Muthukumaran in Kalyanamalai. Muthukumaran after completing his B.E. and MBA, was working in a Multinational Company as Sales Engineer.
Similarly, the parents of Selvi Krithiga (601830), Thiru Ramachandran and Thirumathi Pushpa had registered the profile of their daughter in Kalyanamalai in search of a good groom. Krithiga after completing her Diploma in Information Technology was working in a good private company.
Both the families liked the profile photo, education, employment and family details of each other and proceeded to fix up the marriage. The marriage was held in a grand manner on 9th September at Marappa Koundar Kalyanamandapam, Thudiyaloor in Coimbatore, with the participation of relatives and friends.
Kalyanamalai conveys its best wishes to the newly wedded couple Muthukumaran and Krithiga for a very happy married life.
More Success Stories
KM Matrimony Best Services –