We Married within Three Months of Our Registration in Kalyanamalai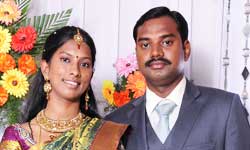 'I am still not able to believe that I could find some one, get to know, liked each other and get married within three months of our registration in Kalyanamalai. Hats off to your guys and keep it going.. our thanks to Kalyanamalai' were the words expressed by Selvan Muraleedhar, when we reached him and congratulated him on his marriage. Thank you Muraleedhar, our true strength lies only in such words expressed by a number of people everyday.
Selvan M.S.Muraleedhar (616967) son of Thaivathiru M Subash Chandrabose and Thirumathi Leelavathi, has completed his BE (CSC), ME (CSE) and was working as Assistant Professor in a reputed college while continuing his Ph.D. course. He has registered in Kalyanamalai to find his life partner.
Similarly Thiru Sridharan and Thirumathi Rama Devi had registered in Kalyanamalai to find a suitable groom for their daughter Selvi Shravanthi (607409). Shravanthi has completed her M.SC. (Biochemistry) and was working as a Journal Manager in a reputed company.
Both Selvan Muraleedhar and Selvi Shravanthi were impressed by the profile details of each other. The betrothal was performed with the blessings of elders from both the families. The marriage was celebrated in a very grand manner on 21st June 2013 at Srinivasa Kalyana Mandapam, Chennai.
Kalyanamalai wishes the couple Muraleedhar and Shravanthi to get the best of everything in their life and lead a very happy married life.
More Success Stories
KM Matrimony Best Services –