Best Wishes from Kalyanamalai for a Happy Married Life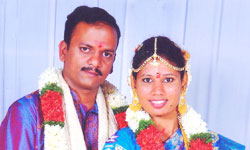 Thirumathi Manimekalai called on Kalyanamalai to convey the news about her sons marriage and to express thanks to Kalyanamalai for making it possible.
Selvan Kannapiran (582522) is son of Thiru Thiruvarasu and Thirumathi Manimekalai. He has completed his ITI course and running his own Panel Board Fabrication business in Tiruchirapalli. He came into contact with the profile of Selvi Lavanya (607676), daughter of Thiru Rajapriyan and Thirumathi Gowri, registered in Kalyanamalai. He liked the profile details and family details and contacted them. Both the families liked each other and performed the betrothal.
The marriage of Selvan Kannapiran and Selvi Lavanya was celebrated in a grand manner on 13th May 2013 at Tirupathi with the blessings of the elders from both the families.
Kalyanamalai prays to god to shower his best blessings on the couple and wishes them a very happy married life.
More Success Stories
KM Matrimony Best Services –