A Happy Marriage Performed Traditionally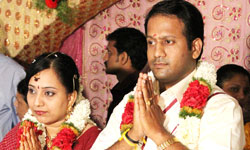 When Kalyanamalai contacted Selvan Kamala Kannan to convey our marriage greetings, he thanked Kalyanamalai for its efforts and happily recalled and narrated how his marriage was performed.
Kamala Kannan (518364),is the fourth son of Thaivathiru Devaraj and Thirumathi Shanthi. He has completed his BCA degree and pursuing his MBA. He was employed as a SAP accountant in a leading firm at Bangalore. His brother on his behalf had registered his profile in Kalyanamalai.
Similarly Thiru Ganesan and Thirumathi Saraswathi from Erode had registered in Kalyanamalai for their beloved daughter Selvi Gayathri (609525) at the Erode branch of Kalyanamalai. Selvi Gayathri has completed her B.Sc., and MBA degrees and was in the look out for a suitable employment.
Both Kamala Kannan and Gayathri liked the registered profile details of the other and the marriage betrothal was performed with the blessings of all the elders. The marriage was performed in a very grand manner at Metur on 10th July, typically including all the Seer Karuneegar marriage traditions.
Kalyanamalai wishes the newly married couple Kamala Kannan and Gayathri to get best of everything in their long fruitful married life.
More Success Stories
KM Matrimony Best Services –