Protect yourself from ulcer...!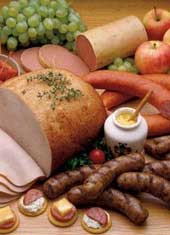 It is very important to ensure that the food we take is nutritious. It is always good to take stomach-friendly and easily digestible food, says the Siddha doctor R. Sivaraman.
Today, our food habits have undergone a sea change, eventually leading to various problems. Many people have ulcer and piles. It is better to avoid chillies and fries. Those with piles should not take chicken much. Patients with bleeding piles should avoid chicken totally. The siddhas have said that those items that increase pitha will aggravate piles problem. If the food that we eat takes more time to digest, if the digested food adds heat to the body, then the risk of piles is great. By eating at fixed times and following a proper diet, the risk of ulcer and piles can be avoided. Fiber-rich greens, vegetables and fruits are very good. Fenugreek is also very good. Instead of raw rice, boiled rice can be used. Instead of red gram, green gram can be used. Black gram is also good. Buttermilk is healthier than curd and milk. One glass of buttermilk can be taken at 11 a.m. and 3 p.m. daily. Plantain and papaya are very effective in removing constipation and ulcer. Manathakkali and pirandai cure ulcer. Water, boiled with cumin seeds is very good for the stomach. Cumin seeds can be fried and powdered and taken with cooked rice. Thuthikeerai is very good for treating piles. This can be cooked along with green gram. White pumpkin and buttermilk kuzhambu also make good food.
The gel inside aloe vera can be separated and cleaned and 5 gm taken in the morning in empty stomach. The juice of vilva fruit is also good for ulcer. Those with tension or depression are prone to ulcer and piles. Yoga and meditation help avoid these problems. Jeeraka vilvadhi lehyam is recommended for ulcer. If constipation is avoided, intestinal problems can be avoided. Those with bleeding piles can take karunai root lehyam. Normally, roots should be avoided. Oil bath with gingili oil will be good for patients with piles or ulcer. Ten raisins can be taken daily to prevent constipation.
Tender kadukkai can be fried in castor oil and powdered and half teaspoon should be taken along with warm water daily at night. Those who have sedentary work are prone to get piles. Pregnant women can also get piles due to the weight of the baby. The piles should disappear within three months after delivery. If it persists beyond this period, then treatment should be taken.
The symptoms of ulcer include stomach pain when hungry and heartburn. Feeling of heaviness in stomach immediately after food, pain after one or half an hour after food, feeling hungry during nights, all these are symptoms of ulcer. The symptoms of bleeding piles include the appearance of drops of blood before the evacuation of feces.
Thandu keerai and coconut milk are very good for ulcer. Idiyappam can be taken with coconut milk. We should bid goodbye to starvation, aspirin pills, steroids, spirit, smoking, stress, strain (physical), the seven 'S's to remain healthy, says Sivaraman.