Kalyanamalai at Dubai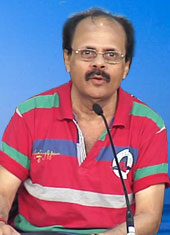 Dear All Greetings!
On 23rd January 2015, Friday, SUN TV Kalyanamalai Shooting got completed in Dubai successfully. Wherever, we whether it is India or an overseas destination, we enjoy the love and affection showered on us. We consider such affection and love as rejuvenating forces that allow us to renew.
We always used to think about what unites and keeps the people living all over the world in a bondage. Is it the closeness of the relationship, sear5ch for a new friendship, the love in earning money or cultural necessities. Though all of them can be considered as reasons that binds us, above all the love towards our mother tongue, our mother Tamil unites us.
While Kalyanamalai was already on the task of preserving the family relationship and tradition, it is also taking steps to preserve the rich cultural heritage of Tamil.
Let us take a vow to talk with our children in Tamil, talk with our friends in public places in Tamil and exchange SMS in Tamil. Such an effort will help us to improve our language capabilities and allow us to write without mistakes
Though it may not be possible for us to further develop the thousands of years old Tamil language, at least let us take steps to preserve it.
With love
Meera Nagarajan
Editor
More editor's pages
KM Matrimony Best Services –