Siruthuli – Let us preserve water and water sources
Dear All Greetings!
The SUN TV Kalyanamalai shooting arranged by Kalyanamalai, went off successfully at Coimbatore. I would like to share some of the notable happenings with you all now. We invited Dr.R.V.Ramani, Managing Trustee, Sankara Eye Institution and Ms.Vanitha Mohan, Managing Trustee of SIRUTHULI,NGO, as special guests for the SUN TV Kalyanamalai program. Kalyanamalai aptly called Ms.Vanitha Mohan to grace the occasion on World Water Day.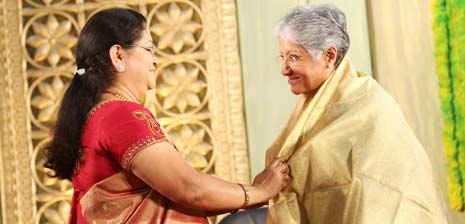 Only a day before SUN TV Kalyanamalai program, the members of Siruthuli NGO walked seven kilometer distance on the river path from the origin of the river Noyyal. The occasion while created awareness about water also showcased the tragedy of how a river path has become a normal walking path in the absense of the river. When we went around small villages in close proximity to Coimbatore, we felt happy when we could see many ponds and lakes filled with water. The villagers we met always mentioned Siruthuli and Vanitha Mohan as reason for such water filled water sources and feared much of those water sources would have gone unnoticed.
During the SUN TV Kalyanamalai program all of us took the following vow before before Vanitha Mohan. 'We will not buy or encourage anyone to buy constructions that were built over the water sources, we will not waste even a droplet of water, and we will preserve the existing water sources for the use of the next generation. We request every one of you to take similar vows to protect water sources close to your location.
Let me share the details and services rendered by Dr.R.V.Ramani in my next write up.
With love
Meera Nagarajan
Editor
More editor's pages
KM Matrimony Best Services –