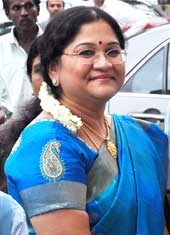 Dear All Greetings!
Kalyanamalai Magazine was started on 1st May 2002. I am meeting you on the happy occasion of its completing 12 years service and stepping into the 13th year.
The magazine, started as a monthly to help the alliance seekers, is now published every fortnight. In all the years, over 340 issues of the magazine, published till date, has carried over 2,00,000 profile advertisements. The magazine, was read by over 10 lakh readers and contributed to the fixing of more than 2,20,000 marriages. Kalyanamalai Magazine simplified the complicated bride or groom searching process. All the marriage seekers need to do is to advertise their profile in the Magazine and search for a suitable match from the profiles published in the magazine.
From the 1st of June issue the magazine will have a change both in its out look and presentation of details. The new presentation will have more information to benefit the alliance seekers. Order your copy or become a subscriber for the magazine.
Kalyanamalai is the only magazine that is brought out exclusively serve the alliance seekers. Every issue of the magazine carries the alliance seekers details transparently with color photo. To avoid unnecessary problems to the profile advertisers we avoid publishing their contact details in the magazine. At the same time, we have made adequate arrangements provide such details to those who contact our office. Please be in touch with Kalyanamalai office for all your matrimony related needs.
The price of the magazine is fixed as Rs.30/- from the 1st of June 2014 issue. We are sure you will not mind this expenditure you spend to buy the magazine, which makes the alliance seeking process simple and efficient. I earnestly wish for the happening of an early marriage in all the alliance seeking families.
With love
Meera Nagarajan
Editor
More editor's pages
KM Matrimony Best Services –