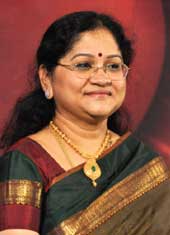 Dear All Greetings!
Kalyanamalai is getting ready to celebrate the 'Kalyana Kondattam' in a grand way at Chennai Trade Centre, Nandambakkam on 15th and 16th March. I am reaching out to you when the arrangements are in full swing at the office.
Kalyanamalai assists people in getting a suitable bride or groom to fix the marriage of your son or daughter. Athithi is engaged in organizing the wedding event in a fitting way. The 'Kalyana Kondattam event' will have the participation of both Kalyanamalai and Athithi.
The event anticipates participation, of those who are seeking their life partner, who have fixed the marriage or about to fix the marriage and the parents with a daughter or son in marriageable age. Kalyanamalai is known for taking adequate care and interest in arranging the events. The organized event is expected to have participation of companies that offer wedding dresses, wedding decorations. wedding jewelery, wedding presents, wedding event management and hotels.
Kalyanamalai is expanding its services from marriage seekers to those who look forward to arrange the marriage. It is expanding its services every day. We invite every one with such necessity to reach Kalyanamalai for all your needs. We await to organize your family marriage into a dream marriage.
With love
Meera Nagarajan
Editor
More editor's pages
KM Matrimony Best Services –