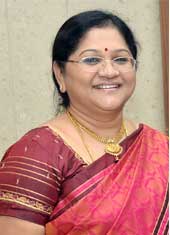 Dear All Greetings!
Kalyanamalai Magazine offers biggest opportunities for the parents and the brides or grooms and also for us in Kalyanamalai. For the parents the opportunity comes in the form of a book with details of bride and groom with photos to choose from. For the alliance seekers the magazine offers an opportunity to make a self introduction with details of their qualification, expectations and contact address to reach, thus making their job easy. This is the biggest contribution of Kalyanamalai for the alliance seeking community.
For us the Kalyanamalai magazine is a very big and interesting device. It offers the biggest opportunity for us to understand the mindset of the alliance seekers and to reach out them individually. We consider the magazine as a powerful format to share our views and thought process without any inhibition. We share only those things that can shape up the society.
We are aware a thought process that goes in print becomes an indestructible evidence. We believe in using the power of writing only for creative purposes that can shape-up the society and use the power with due care.
The Kalyanamalai Magazine started in 2002 now gets published with more number of alliance seekers details and other useful information. We seek the continuous patronage of the alliance seekers.
My hearty New Year and Pongal greetings to every one.
With love
Meera Nagarajan
Editor
More editor's pages
KM Matrimony Best Services –